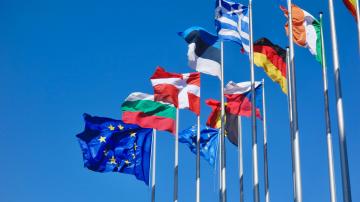 The HERMES network, founded by EM Strasbourg Business School in 1997, aims to offer students international opportunities by strengthening teaching and research cooperation between different schools and universities. The HERMES annual general meeting took place May 26–27, 2022, at ESCA in Casablanca, Morocco.
It is now a tradition that the most recent member to join the HERMES network has the privilege of hosting the network's annual meeting. Integrated in October 2021, ESCA School of Management welcomed HERMES members from May 26 to 27, 2022, for its annual meeting, which was chaired by Dr. Claudia Tarantola from the University of Pavia in Italy.  
Dr. Kevin Mac Gabhann, Associate Dean for International Relations at EM Strasbourg Business School, has been managing director of the HERMES network since 2019, making the Strasbourg school and founder of this network a key member that is fully committed to its development.
The HERMES network,

25 years of international cooperation dedicated to students
Founded in 1997 by EM Strasbourg Business School, the HERMES network has not ceased to develop and has now reached a global scale with 25 European, American, Asian, Australian, and African partner universities, compared to seven European partner universities at the time of its inception. While it has grown in scale over time, its raison d'être remains the same: to strengthen international cooperation so that students from the various partner universities may benefit from major international advantages during their studies.
Strengthened teaching and research

cooperation
HERMES currently offers more than 25 dual degrees within the partner universities and enables more than 100 students to go on exchange within this network each year.  
Cooperation has also been reinforced at the research level, with the establishment of doctoral and faculty exchanges within the different institutions. In addition, an international doctoral seminar is organized each year.
Current

areas of active work
On the agenda of this annual meeting:
Election of a new president
Election of a vice general secretary
Activity report
Joint research projects
Online COIL course co-constructed by the network, offering students a national and international vision of education
Faculty exchanges
Sharing of best practices
Members of

the HERMES network:
Athens University of Economics and Business, Greece
Bucharest University of Economic studies, Romania
Ca' Foscari University of Venice, Italy
Chongqinq University, China
Corvinus University of Budapest, Hungary
Eberhard Karls Universität Tübingen, Germany
EM Strasbourg Business School, University of Strasbourg, France
ESCA School of Management, Morocco
Friedrich-Alexander-Universität Erlangen-Nürnberg, Germany
HEC Management School, Liège Université, Belgium
Jagielloninan University in Kraków, Poland
Southwestern University of Finance and Economics, China
Stevens Institute of Technology, USA
Texas A&M University, USA
TU Dresden, Germany
Universidad de Granada, Spain
Universidad de Sevilla, Spain
Università di Pavia, Department of Economics and Management, Italy
Universität Innsbruck, Faculty of Business and Management, Austria
University of Adelaide, Australia
University of Alcalá, Spain
University of Economics in Bratislava, Czech Republic
University of Hohenheim, Germany
University of Limerick, Ireland
UWA Business School, University of Western Australia, Australia
Two new candidates are in the running to join the HERMES network: Zagreb School of Economics and Management in Croatia and the University of Vaasa in Finland.