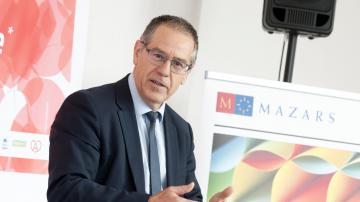 Accounting, taxation, governance, and others are all daunting challenges for anyone embarking on a family business transfer. For the past five years, Patrice Charlier, research lecturer at EM Strasbourg, has been working on this subject as part of the work for the Governance & Family Business Transfer Chair which he leads. Since the creation of his chair, in 2012, he has been able to count on the support of Mazars. A win-win partnership. Meeting with Patrice Charlier and Jean-Louis Koessler, Chief Executive of Mazars' Strasbourg office.
Shared Interests
"The share of business transfers within families is only 12% in France, compared to 65% in Germany and 76% in Italy! They are often poorly or inadequately prepared: only 15% of family businesses have a succession plan, even though it is a complex process", comments Patrice Charlier.
"This process includes the transfer of ownership and management, but also, and above all, a strong emotional dimension for the transferor, the transferee, and family members. One of the key factors in this low number of transfers is the emotional dimension. It is precisely in order to respond to this issue that we created in 2016, with Mazars and Banque Privée du CIC, the "Young Family Business Transferees" training program, and the participants' testimonies attest to the usefulness of this training," he says.
"Our involvement in EM Strasbourg's Governance & Family Business Transfer Chair helps us to understand these concepts and integrate them into our approach," adds Jean-Louis Koessler, Chief Executive of Mazars.
 
Concrete Support
Initial funding in 2012 made it possible to finance studies on family business transfers, as well as a PhD student's dissertation work. "The support granted to EM Strasbourg by Mazars also makes it possible to support a think tank where Alsatian business leaders meet every quarter to discuss their family governance issues." Jean-Louis Koessler added: "We have been supporting the Chair since its creation five yearsago. This shows the importance of sustainability."
 
IN BRIEF
A word from Jean-Louis Koessler, Chief Executive of Mazars
"Transfer is one of the purposes of life, both in terms of heritage and knowledge. We are moving from an extremely financial world to a world where values will become increasingly important. It is therefore essential for us as finance professionals to incorporate the values of each company and to take into account the emotional dimension of its entire ecosystem. Our involvement in EM Strasbourg's Governance & Family Business Transfer Chair helps us to understand these concepts and integrate them into our approach. With its impact not only locally and nationally but also globally, Mazars can be one of the stakeholders in this change because, like EM Strasbourg, its ideals based on ethics and it prioritizes the general interest."