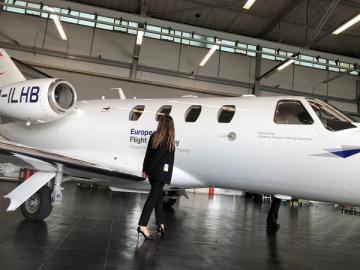 Élise Gramfort is a graduate of the PGE at EM Strasbourg, specializing in Marketing. After working for L'Oréal and then Danone, she changed lanes and became an airline pilot student at Lufthansa. But how do you move from marketing to aviation?
Travel: A Real Passion.
After a year at EM Strasbourg, Élise chose the University of Chengdu, China, for her year abroad as part of the PGE. "I wanted to experience the true China, which is often portrayed in a very negative way. " She discovered a traditional country, and immersed herself in a context where English is hardly spoken.  "To communicate outside the University, I learned basic Chinese and expressed myself through gestures. "
In this context, Élise was completely out of her comfort zone. She recalls this experience on her blog, riz-cantonais.net, which is still active to this day. It strengthened her ability to meet challenges.
"This year in China has completely shaped the person I am today."
On the Path to Aviation
After graduating, Élise landed a job at L'Oréal in Paris. "I created pop-up stores for the Lancôme brand in airports and wrote articles for airline magazines. I had always been attracted to aviation. When I was younger, I dreamed of being a stewardess. "
It was when she discovered aeronautics that her direction took a decisive turn: "I decided to take an hour-long flying lesson. After sixty minutes over the Vosges, I had fallen in love with flying. Friends encouraged me, telling me that I was capable of making a living out of it." Élise decided to become a private pilot and learns about becoming an airline pilot.
While working at Danone, she was preparing for competitive exams for several aviation schools in her free time. First up: a refresher course in math and physical sciences, then the preparation for psycho-technical tests, which are used to select pilot students. After a year and a half of hard work, Élise was admitted to three different schools. She decided to join the Lufthansa school, in northern Germany.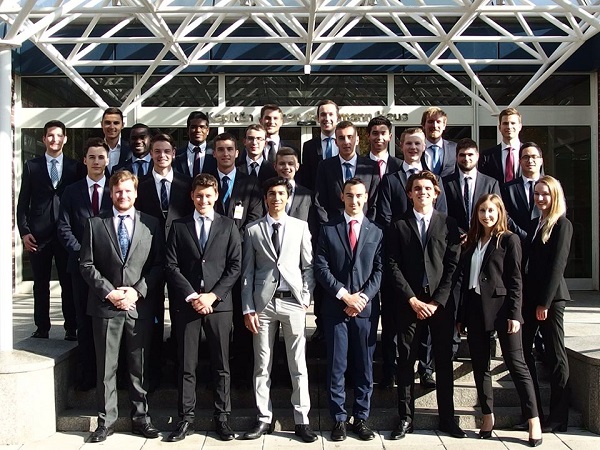 Airline Captains: Managers in the Air
As part of her new training, Élise deals with a wide range of subjects, from air law to meteorology, as well as with the principles of thermodynamics and radionavigation. "I am also taking courses in psychology," she explains, "regarding behaviour in a cockpit." It is an enclosed and restricted space, where we must evolve with the same objective: to ensure flight safety at all times."
After a few months of training, Élise is already seeing bridges being built between her former and future professional life. Indeed, the captain has to manage an entire crew: a first officer, several stewards and flight attendants. They are also responsible for good communication with ground staff. "My time at EM Strasbourg will help me in a few years' time to be a good captain. The aim is to set the tone for a respectful and relaxed working atmosphere."
This new job still holds many journeys and challenges for her, even just until the end of her training. In Germany, she is studying the theoretical part of an airline pilot's job. Following that, there'll be six months near Miami for the practical part. The portrait of a good captain, according to Élise: "They say that the best pilot is someone who never has to show their talent. Someone who can anticipate enough not to be surprised by their plane."