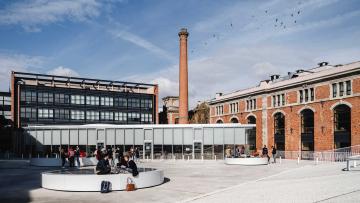 The Bachelor of International Business at EM Strasbourg Business School (EMSBS) earns state recognition for four years. This token of excellence further establishes it as a leading undergraduate program in higher education.
The Bachelor of International Business is one of the few locally developed bachelor's programs in France to have received state recognition, for a duration of four years, issued by the Ministry of Higher Education, Research and Innovation (MESRI) following approval from the National Commission for the Evaluation of Training and Qualifications in Management (CEFDG). This change will benefit students entering the program in September 2022.
"The Bachelor of International Business at EMSBS allows students to combine, through its various study tracks, the international and entrepreneurial dimensions that are dear to the School. Its operational and original curriculum allows us to prepare our students for an immediate entry into the job market or for further studies. I am very proud to have obtained this national recognition, which rewards the pedagogical approach and the investment of the teams, particularly the Registrar's Office, the Director of Studies Sarah Richard, and the Associate Dean Didier Wehrli," declares Herbert Castéran, Dean of EM Strasbourg Business School.
"This program is a balance between internationalization and professionalization, between knowledge acquisition and skills development. The different parts of the program are developed with students and even on their own initiative. I am pleased that this state-registered degree also recognizes the quality of the work completed by our teams."

Didier Wehrli, Associate Dean for the Bachelor's Program