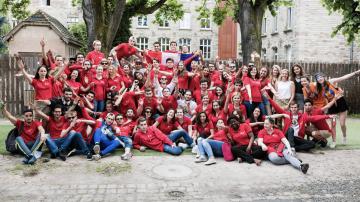 Anthony Koch, a second-year student in the PGE speaks about his experience as a Student Ambassador during the 2019 Entrance Examinations at EM Strasbourg. Read his interview as well as his valuable advice to candidates for their oral exams.
Q : What made you want to be a Student Ambassador?
Anthony : When I took my oral exams at the EM Strasbourg two years ago, the ambassadors made me want to relive this experience, especially because of the day I spent and all the kindness they showed me. I immediately knew that if I was accepted, I would want to play this role in turn and represent my School in this way. I also realised that being an ambassador was a rewarding professional experience. I have been able to improve my organizational skills in situations where we have to react quickly to the unexpected. On a personal level, I have had the opportunity to meet many of the ambassador team (no less than 86 students!), managers and candidates that we host.
Q: What Are Your Responsibilities During This Period?
A: I joined the Hosting section because of the variety of the responsibilities entrusted to me and to be at the heart of the organization and supervise daily activities. I welcome applicants as soon as they arrive, I accompany them throughout the day so that they can get their bearings and I offer them the opportunity to take part in various activities. My priority is for everyone to feel at home with us so they want to join the school, just as we did before them. To do this, the whole ambassador team takes them to discover Strasbourg and the School and we openly share our experiences as EM Strasbourg students. I also help the other sections, because we have learned to support each other and to be united, a bit like a big family would do. 
"My priority is for everyone to feel at home with us so they want to join the school, just as we did before them."

Anthony
Q: How Do You Reassure the Applicants Before Their Oral Exams?
A: First, I go to meet them, answer their questions about the different degrees, the associations, opportunities to go abroad and, of course, life at the school. Then I offer them the chance to take part in the multitude of outdoor activities so that they can really enjoy their stay, such as bike rides, segway rides or even small boat trips on the River Ill. On campus, we have set up a "Zen" room where they can be in a quiet and relaxing atmosphere with a cocoon feeling but also outdoor lounges with chalets where they can eat or drink at any time. To end the day in style, we go to Alsatian restaurants to discover the famous tarte flambée and Strasbourg's nightlife. 
Q: Why Did You Choose EM Strasbourg?
A: I decided to join EM Strasbourg because of its many assets and the city's appeal, and both of these work well with my career path. I am currently finishing my second year of the PGE specializing in Marketing, and I'm looking to specialize in events or sports marketing afterwards. Being passionate about sport, my aim is to be able to join a company specializing in sport such as Puma or Adidas which are partners of EM Strasbourg and whose French headquarters are in Strasbourg, which is really advantageous. On top of that, I had the opportunity to be on the list during the association election campaigns to be part of the Sports Association. It seemed obvious to me that this was in line with my career path, which I will be able to highlight on my CV. Of course, the international aspect has greatly influenced my choice and I will soon be flying over to Sheffield in England for a year! I can't wait.
"My advise: be yourself, be natural and to seize the opportunity that EM Strasbourg allows you to talk about yourself openly, bringing out your personality and your be distinctive side."

Anthony
Q: Do You Have Any Advice for Applicants for Their Arrival and Their Oral Exams?
A: In my opinion, and especially in my experience, the most important thing is to be yourself, to be natural and to seize the opportunity that EM Strasbourg allows you to talk about yourself openly, bringing out your personality and your be distinctive side. Finally, to quote our Dean, Mr Castéran: "Stay focused, give the best of yourself and good luck to all for your oral exams. We hope you enjoyed your time with us."