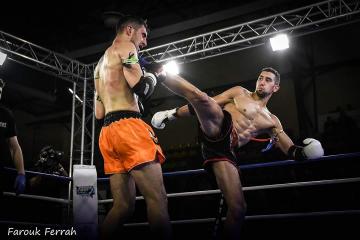 Our students are talented... and they keep proving this to us! Bilal Chareuf, a second-year PGE student specializing in marketing, has been a Thai boxer since the age of 13. This year, he distinguished himself among the best by winning three French championship titles in two different weight categories and in the university category. Meet a student who doesn't lack courage!
At the age of 13, Bilal came through the doors of the WFight Thai boxing club in Strasbourg. Today, at the age of 21, he is the club's president. This didn't happen in one day, he had to battle up every step of the ladder to get there. "For my very first fight, after 6 months of practice, I had to face a man over 30 years old. His children were my age! I was so unsettled by this that I withdrew." This was a difficult moment in the life of this athlete who had to endure mockery and taunting from his peer group before regaining his self-confidence. 
With more than 70 fights to his credit throughout the world, Bilal considers boxing as a sort of drug that allows him to remain calm in all circumstances. When he started the sport, his primary aim was to travel. But soon, he felt the desire to share his knowledge. Next year, Bilal plans to continue his studies by taking a university gap year to take his Brevet professionnel [professional certificate] in Youth, Education, and Sport with the aim of coaching the youngest.
When we ask Bilal if he considers boxing to be a violent sport, he replies that there is certainly violence, but that this is only a small part of it and that in reality, a lot of positive things come out of it. "This sport instills real values that we may not know about," he adds. "By travelling thanks to boxing, I realized how lucky I was to be in France and to have the opportunity to study. So I decided to seize the opportunity and continue my studies", explains Bilal, who has had a difficult path all the way to high school. "With a bit of willpower you can succeed", he sums up.
"I realized how lucky I was to be in France and to have the opportunity to study. So I decided to seize the opportunity and continue my studies"

Bilal
Reconciling Your Passion and Higher Education
Being an elite athlete is hard. Succeeding with your higher education at the same time is even harder. EM Strasbourg understands this and that's why Bilal is able to adjust his track thanks to his status as an elite athlete. The aim is to enable students to develop their personal goals and to develop soft skills that are now essential for future recruiters.
Bilal can thus fully invest himself in the school's association life since, in addition to being part of Multimedia Association and the Students' Association, he is also runs the combat sports section of the Sports Association, which he himself created. However, there is a difference between his own student life and that of his peers. "Reconciling studies and elite sport is a sacrifice. My student life has a different rhythm: if I go out on a Saturday evening, I know that the next day I have to get up to go jogging while other people sleep in. I don't drink alcohol either, my lifestyle is very strict."
These choices are motivated by his passion for boxing, and that is why he accepts them. "We pay the price for our mistakes. If I haven't practiced enough and I make mistakes or lose, I can only blame myself. In the ring, I am solely responsible, and I think this is a great philosophy for life," he explains.
Always Further
"Boxing is not my job, it's really a passion. But my professional career will revolve around sport." This is the ambition of this student who already has his heart set on sharing his values and setting an example for his fellow students.  He has several boxing-related plans, and the school again is unwavering in its support by financing one of them through the Ideas Scholarship.
On the fighting side, Bilal already has a full schedule for the coming months: among others, the world university championships this summer in Pataya and the world championships in the United States in April 2019. In short, the opportunity to add a few world championship titles to his collection. Watch this space...