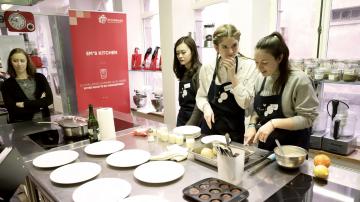 After the winter break, students thought they had finished with the stove, the chef's hat, and the apron. They weren't counting on the Cap Career Seminar which was waiting for them at the start of the new school year in January 2019... On the menu: a cooking competition, intercultural teamwork and creativity for small dishes to be presented to the judges. A fun exercise which does not lose sight of the main point: to enable students to work on both their know-how and their interpersonal skills which will be indispensable in their future careers as executives and managers.
In the heart of Strasbourg, the premises of Cuisine Aptitudewelcomed an uncommon buzz at the beginning of January. For one week, 300 second-year students from the PGE attended the cookery school to participate in an unusual back-to-school seminar, a cooking competition called EM's kitchen. "We're used to regularly hosting corporate team building events, but this is a very different, even more demanding exercise," says Nicolas Jean, the competition's founder. More demanding? "Yes, because in addition to the objective of strengthening links between students, there is, among other things, a strong expectation from the school in terms of understanding how students behave as a team, how they organize themselves, what room they leave for their creativity, etc.", he explains.
"We are getting stuck into the subject", adds Pauline Govart, head of the Cap Career department at EM Strasbourg Business School, "insofar as our raison d'être is precisely to support students, collectively and individually, in building themselves up". A support which therefore includes this week of seminars which, in this form, is a real novelty. In this context, organizing a cooking competition makes it possible to build very relevant parallels with the professional world. "In a very concrete way, the students touch on the issues of teamwork, organisation, communication and time and stress management", explains Pauline Govart, "while the cooking helps to stimulate their creativity and creates opportunities for cultural exchanges for these students who come from all over France and the world".
Surpassing Themselves and Innovating as a Team
This work on soft skills was therefore carried out in groups of 8 to 10 people, working exclusively in English. Their objective was to propose to the judges a dish and a dessert based on 3 set foods. "They had access to the company store, which contained a wide variety of foods to support their dishes and desserts, but we also have a budget of €10 per group for those who need to go outside Cuisine Aptitude to find ingredients," she explains. The challenge? Being able to think outside the box, to surpass themselves and innovate without forgetting their initial roadmap or losing sight of their final objective. "This is exactly what is expected of managers and executives today: adaptability and the ability to work in an environment where different cultures intermingle to get the best out of them in terms of creativity," continues Pauline Govart.
Confidence, Skills, and Adaptability
Although a new addition this year, this exercise is perfectly in line with Cap Career's philosophy and, more broadly, the School's three values: ethics, diversity, and sustainable development. At the heart of EM Strasbourg, this body therefore aims to give students the keys to balanced personal and professional development. It has three in-house coaches and relies on six to eight others from outside the School. "Self-confidence, collaborative skills, intercultural and international management, etc.: during their studies, we make each student work on these aspects that will be essential for them later on", she says. This is a real plus, valued in all programs and all tracks, which therefore gives pride of place to individuals and their respective personalities, which they are encouraged to cultivate throughout their studies.
In the meantime, it is time for the culinary judges to decide the winners among the first groups. The one who proposed the best recipes and who also took up the intermediate challenges and showed the best spirit throughout the day will be selected for the grand final to be held on Friday, January 11 under the eyes of chef Amandine Chaignot, the event's invited star.
Partners Involved
As a supplier to the catering trade, the Pomona Group (TerreAzur, Passion Froid, Episaveurs) has more than 800 employees in the Grand Est region. When EM Strasbourg Business School offered it the chance to become a partner of EM's kitchen, the company did not hesitate: "As a stakeholder in the catering industry, there was a real consistency in being there and providing some of the food served this week," says Lucie Corriger, Head of Human Resources at TerreAzur Alsace (Pomona Group). A thematic but also philosophical coherence for this company, which makes its links with schools an important part of its HR policy by regularly welcoming, for example, students on internships. "Finally, taking part in this event allows us to make the group better known among students and to participate in the local economy," adds Lucie Corriger. The Pomona Group is in fact a group that regularly recruits, in logistics of course, but it also looks for candidates more focused on marketing, sales, or purchasing like the ones the School can offer.
EM's Kitchen, an event where  partner companies can improve their reputation among future managers while taking part in a fun and unusual event...