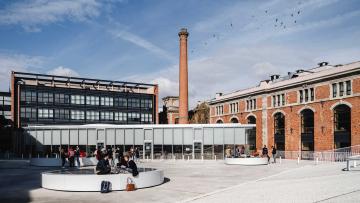 EM Strasbourg has once again been granted the Diversity Label for a period of four years. This distinction, awarded by AFNOR Certification, recognizes in particular the policy of social, economic, and cultural openness that has been implemented by the School for many years.
EM Strasbourg was one of the first business schools to obtain the Diversity Label in 2012. Following the new audit conducted in 2021, the auditors highlighted the importance placed by the School and its leadership on diversity. Alongside sustainable development and ethics, diversity is one of the three values that guide and give rhythm to life at EM Strasbourg. According to the auditors, diversity is embedded "in the programs for students, in HR processes, and in the culture of the organization."
"This label recognizes EM Strasbourg's resolute and lasting policy on diversity. Our school remains one of the few schools to be recognized for this aspect, which is crucial for managers in the 21st century. Be Distinctive is more relevant than ever at EM Strasbourg."

Herbert Castéran, Dean of EM Strasbourg Business School
One of EM Strasbourg's main vocations is to be a leading business school that is accessible and open to all. The School thus intends to pursue and strengthen its policy of openness through several initiatives such as the "Ouverture et Talents" admission pathway introduced at the start of the 2021 school year that grants 20 high school graduates with disabilities or from less privileged backgrounds special access to EM Strasbourg. Under certain conditions, this initiative allows admitted students to benefit from a full tuition waiver during their studies.