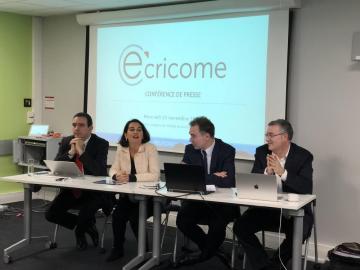 At the press conference on November 21, ECRICOME announced that EM Strasbourg would be joining its test system for the 2020 post-prep class and post-baccalaureate exams.
4 Schools for a Prestigious Entrance Examination
EM Strasbourg is leaving the Passerelle and ECB test systems, and will recruit its students from 2020 using the ECRICOME PRÉPA et LITTÉRAIRES entrance examinations and the parallel TREMPLIN 1 and TREMPLIN 2 entrance examinations.
 
A test system made up of 4 prestigious schools:
 
EM Strasbourg
Kedge Business School
Rennes School Of Business
Neoma Business School
A Growing Number of Places
With these 4 member schools, there will now be 1,925 places available for EC and Literature preparatory classes, i.e. 1/4 of the places open in the SIGEM admissions system. This expansion opens up new perspectives, especially for international recruitment.
 
Strategic Orientation
"Joining ECRICOME is both the natural outcome of EM Strasbourg's evolution and shared common beliefs: a desire for excellence, a link to the preparatory classes, a central place for research and innovation and the desire to be a key player on the global market." Herbert Castéran, Dean of EM Strasbourg

ECRICOME Entrance Exams at EM Strasbourg
 
ECRICOME BACHELOR Entrance Examination
ECRICOME PRÉPAS Entrance Examination
ECRICOME TREMPLIN Entrance Examination
See our degrees