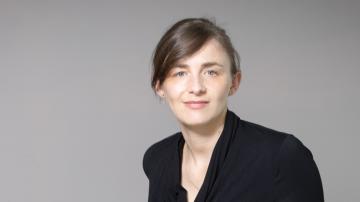 Marysabelle Cote, management director and member of the management committee of ARTE GEIE, becomes mentor of the PGE and BIB classes of 2025 at EM Strasbourg Business School. The School has also signed up for ARTE Campus, the offer dedicated to higher education and adult training proposed by ARTE Education. 
ARTE and EM Strasbourg

—two institutions with strong European roots

 
ARTE's European identity is widely recognized—it forms the DNA of the European cultural channel created in Strasbourg thirty years ago. Likewise, Europe is at the heart of EM Strasbourg's programs of study. For example, it recently created a triple bachelor's degree with Germany and Belgium. In line with its 2022–2027 strategic plan, the School wishes to further consolidate its status as a major business school in Europe by offering its students innovative learning tools for total immersion in the European ecosystem. Program directors have thus made the ARTE Campus platform a key part of EM Strasbourg's pedagogical mission and digitalization strategy to better understand the challenges of tomorrow. 
Marysabelle Cote,

mentor of the BIB and PGE classes of 2025  
Marysabelle Cote's firm commitment to the EM Strasbourg community is further recognition of the School's European and international focus. Management director and member of the management committee of ARTE GEIE since November 2021, she plays a major role in the ARTE GEIE head office, which oversees the French and German program broadcasting and supply divisions. 
Marysabelle Cote spoke to first-year students in the PGE master's program on Monday, September 5, in the Aubette room in Strasbourg. This was an opportunity for the newcomers to immerse themselves directly in the European atmosphere of the School and the city of Strasbourg and to be inspired by their mentor's successful near-15-year journey within ARTE.  Her remarks also illustrated the partnership that EM Strasbourg has forged with ARTE Campus, "which is a wonderful tool that will carry you throughout your studies and even beyond, in your professional life. I invite you to take advantage of it as much as possible. You have great opportunities to discover a multitude of subjects, to learn a new language, to meet new people, or to travel. Being the mentor of your class is a great honor for me, and this first meeting with you is a great way to launch this partnership with EM Strasbourg Business School." 
"We are very touched and proud that Ms. Marysabelle Cote, a leading actor within ARTE GEIE, has agreed to become the mentor of the new PGE and BIB classes. She naturally embodies not only the School's European aspirations but also the values of diversity and excellence to which we are so attached. Without a doubt, she is an inspiring example for all EMSBS students. Her mentorship is also a perfect opportunity for them to learn more about Europe," declares Babak Mehmanpazir, Vice Dean for International Accreditations and Strategic Management at EM Strasbourg. 
ARTE Campus,

the best of ARTE for the EM Strasbourg community to discover, grow, and learn online

 

 
Thanks to its subscription to ARTE Campus, EM Strasbourg now provides its students and staff with a catalog of more than 2,000 regularly updated videos to stay informed about current events, discover new topics, or open themselves up to the world. The audiovisual content made available (documentaries, magazines, short films, etc.) are classified by subject areas studied in higher education and adult education.  A multilingual version is available, as well as interactive tools to customize the video content. It offers tremendous opportunities to breathe life into learning and course preparation or strengthen collaboration between students or faculty.