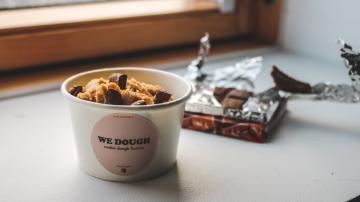 More and more students are becoming involved in entrepreneurship during their studies. They find, among other things, partners in their classes, take advantage of the school's network to benefit from future partners, and get a helping hand via the incubators integrated into the School. Anastasia Chauvière, an ambitious young woman, and student on a professional gap year at EM Strasbourg, launched herself into one such opportunity one year ago with We Dough, jars of raw cookie dough. Meeting.
Question: Tell Us About Your Project
Anastasia: It was during my exchange at HEC Montréal in my second year of the PGE that it all began. I was able to meet Emma, my current business partner, in engineering school, who was also on a university exchange at that time. We are both foodies, and together we have tested all of the region's concepts in this area. During a trip to New York, we came across a shop selling raw cookie dough in all its forms. We loved it! But above all we asked ourselves: why doesn't this concept exist in France? We Dough was born.
I am currently on my professional gap year and am devoting myself entirely to the project and developing it. We are starting to market the product through student events. We see a great opportunity on student campuses: in two months, we have already sold 2,000 jars! The next step is to open our e-commerce platform to meet the demand of our customers. At the same time, next year, I plan to complete the third year of the PGE specializing in negotiation and sales management at the same time, on the co-op track in a food-processing company preferably. Together with developing our company, this will be a real challenge!
Q: How Exactly Do You Manage Your Student Life, Your Personal Life and Your Professional Life?
A: The euphoria we experience when we launch a project quickly makes us forget our personal life. Yet it is important to manage this well, but you have to make some concessions. What helped us a lot, from the very beginning of the project, was being supported. By taking part in competitions, we often get expert advice in different fields on helping us set up our business but also finding a balance between professional, personal, and student life. In fact, we recently won 2nd place at the Coup2Boost. This is a competition in which large companies support student projects like ours. The company STEF, a key player in the food supply chain in Europe, was our mentor for this competition. Their expertise in cold chain and logistics will be invaluable to us because these issues are hard to understand when you don't know much about this field.
In any case, managing everything at the same time is a real challenge. Very often, our personal life suffers as a result. But that's the risk you run when you're passionate about something! Little by little, Emma and I found the best way to organize ourselves: she takes care of all the numbers and logistics through her engineering training. For my part, I focus on the sales, marketing, and communication parts. This distribution allows us to manage this entire small business in the best possible way. Finally, we are supported by the School as well. The head of La Ruche à Projets, EM Strasbourg's entrepreneurial center monitors us, values us highly, and gives us a lot of advice on how to move forward.
Q: Is It Difficult to Be a Female Entrepreneur?
A: At the beginning, we were afraid to start as women in this field, especially because we're young, and especially because we were entering the food industry, which is a male-dominated world. We wondered how investors and partners would take us seriously. In the end, we chose to take this as an asset and prove that we did it, alone, as young women. Because yes, it's totally possible and that's even what allows us to progress on a daily basis, it's our source of motivation! Our observation is that in the end, as long as you are passionate and you transmit this, people are receptive.
Too many women are afraid, they still have this apprehension, and they hesitate to take the plunge. This is why we want to raise their awareness through the "100,000 entrepreneurs" association that we have joined. We give talks in classes, high schools and colleges to promote entrepreneurship for women and young people. It's important for us to show that as a young woman, you can still succeed and you can still set up a business in a male sector. It is a value that we want to share with as many people as possible because it's something that concerns us.
Q: When Will Raw Cookie Dough Be Available in Alsace?
A: From September, when I return to the region for the third year of the PGE, I intend to take advantage of this opportunity to implement some of our ideas in Alsace. It would be great if We Dough could have a presence at EM Strasbourg, and even in Strasbourg, with a few outlets that we could supply or even events that we could cover!