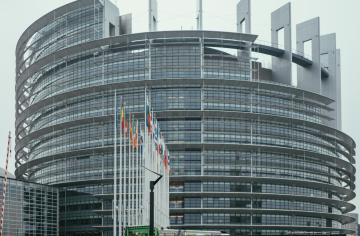 EM Strasbourg Business School, located in one of Europe's richest and most dynamic regions, proudly affirms its unique geographic position in the heart of this cross-border area. For the first time, all first-year PGE students  will be welcomed at the European Parliament on September 4 to kick off their orientation week in the best possible way.
Strasbourg is the strategic economic and political crossroads of Europe. What could be more natural than for EM Strasbourg to welcome the new PGE class to the prestigious European Parliament, a symbol of European democracy?
Occupying the seats of MEPs 

in the chamber of the European Parliament 
On Monday, September 4, students will take their seats in Europe's largest hemicycle. In this exceptional setting, students will
discover a detailed presentation and key figures of EM Strasbourg,
take part in a conference-debate on the European Union's Green Deal and exchange views with specialists, and
try out the voting system used during parliamentary sessions to experience firsthand the role of a Member of the European Parliament.
Babak Mehmanpazir, Dean of EM Strasbourg, explains: "The strong European dimension of our region permeates our teaching. Through role plays and serious games, we encourage our students to adopt a leadership stance and to reflect on the impact of their actions as citizens and future managers. Welcoming them to the European Parliament is a wonderful introduction to their future careers."
Welcome

Week 2023
"Welcome Week allows students not only to discover all the facets of their new school, the campus, and the city of Strasbourg but also to dream and shape  the rest of their career." This is how Charlotte Massa, Associate Dean for PGE, defines the objectives of Welcome Week, which takes place at EM Strasbourg from September 4 to 8, 2023.
A rich, varied, and inspiring program to enable the new class to find their way
Monday, September 4: Welcome ceremony at the European Parliament, presentation of EM Strasbourg, conference-debate, discussions
Tuesday, September 5: A day on the EM Strasbourg campus, with a tour of the premises, an introduction to the administrative teams, and exchanges with the student associations
Wednesday, September 6: Digital escape game and improv theater
Thursday, September 7: Meet and greet with 10 inspiring alumni who will share their EM Strasbourg experience and school-to-work transition
Friday, September 8: Orienteering on the theme of sport and health
Throughout the week, the PGE student associations will offer activities to new students to help them discover all that they have to offer in the year to come.