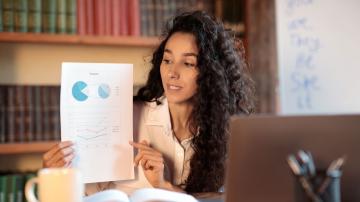 Our final year Bachelor students participated in the first virtual exchange implemented at EM Strasbourg with one of our strategic HERMES partners, the University of Limerick, Ireland.
From last October, 138 EM students and 46 Irish students participated in this Virtual  Exchange which lasted 8 weeks. Students were divided into groups of mixed French and Irish students and had to prepare 3 tasks related to culture, business and arts, using videoconference tools. The telecolaborative tasks completed by the students were part of the semester evaluation (both in Limerick and in Strasbourg) and required students to use both French and English.
Working through the semester with their Irish counterparts led to significant interaction and exchanges between the students. It was a good opportunity for those who may not otherwise have been able to participate in a study abroad program to benefit from an intercultural learning environment without having to travel.
This project was realized thanks to the initiative of Dr. Kevin Mac Gabhann, Director of International Relations at EM Strasbourg, and the cooperation of Barbara Bettazzoni, Head of Language Department and Barbara Wells, English teacher, who led the project directly with the student and teaching teams.
Students and teachers from both universities received an Erasmus badge reward for this 20 hour module that was part of an Erasmus Virtual Exchange. We were all very satisfied with this first attempt of Virtual Exchange and we intend to repeat the experience next year!