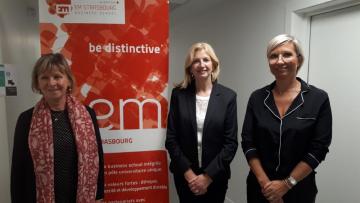 As part of the partnership between AFNOR and EM Strasbourg's Sustainable Development Chair, the School invited two representatives from the French Standards Agency (AFNOR), Sandrine Perignon-Schmitt, regional delegate for Alsace, and Catherine Moutet, director of AFNOR Énergies, to lead a conference on energy performance. In her welcome address, Pia Imbs, Head of the Chair, stressed the importance of energy transition, a key issue in today's world.
 
A Study on Energy Performance, the ISO 50001 Standard, and the Tertiary Sector Decree
Catherine Moutet, who led the conference, got to the heart of the matter: energy performance, an area in which AFNOR is a major stakeholder. For the third consecutive year, the group is thus producing a study aimed at asking organizations that have obtained AFNOR certification about the implementation of the ISO 50001 standard. This study is essential for understanding the evolution of companies' energy management systems (EMS) through the application of the ISO 5001 standard.
Created in 2011 as the result of a collaboration between 61 nations, the ISO 50001 standard, revised in 2018, aims to support companies in improving their energy performance, by implementing an effective methodology, taking into account their needs and specificities.
The French government's Tertiary Sector Decree, which came into force on October 1, 2019, makes it compulsory to reduce the energy consumption of buildings for tertiary sector use, as well as industrial sites with a surface area of more than 1,000m2. This new version of the decree details the work obligation defined by Article 175 of the ÉLAN law, which aims to drastically reduce final energy consumption.
Energy Performance: One of the Major Levers in the Fight Against Global Warming
The results of this study, which brings together the responses of the 174 organizations involved with the ISO 50001 standard in France and around the world, show an encouraging change in the positioning of companies with regard to their energy consumption. Many medium-sized companies are concerned by the subject, whereas initially this issue was mainly a concern for large industrial corporations. Moreover, companies benefiting from certification have until now been more involved in the regulatory process than in action. Today, there is a clear change in this trend, proof of growing awareness, and a clear willingness to take concrete action.
Companies see this certification as an opportunity to save money while acting to save energy. Compared to the same study carried out in 2017, there is an increase in companies' motivation of to reduce their greenhouse gas emissions (GGE).
"Energy management has stronger overtones linked to carbon and climate change than in previous years (...) The Energy Management System (EMS) is maturing and becoming established, it is no longer just particularly motivated people advocating for it, it is becoming institutionalized ", explained Catherine Moutet, who noted, through the 2019 study, that the strategy to combat global warming is more often integrated into companies and is being outsourced less and less.
Staff management is also more developed, which proves companies' strong involvement in this process of sustainable implementation of the EMS, by concentrating their efforts on raising awareness but also and above all on training the teams concerned.
 
From Activism to Corporate Strategy
An approach to and a desire for energy performance are much more deeply rooted in companies. Having been passed on from the hands of activists, this issue has become a project in its own right within companies, led and supported by managers, who define concrete objectives, which was much less common in 2017. The study also highlights that it becomes profitable after a relatively short time, facilitating the implementation of an EMS. However, companies that are new to this process are still letting themselves be discouraged, Catherine Moutet noted with regret, insisting on the importance of support from AFNOR.
If the dilapidated state of facilities and the management of the workload still constitute obstacles to implementing an EMS, we can be pleased with the growing awareness of companies, who are more and more numerous in committing themselves to an energy performance approach. "We are seeing a real takeover of energy management in companies," Catherine Moutet proudly announced, "companies are more mature, more aware of the objectives and the importance of EMS for their health." An involvement that owes much to the 2018 version of the ISO 50001 standard, which is clearer, more readable and more fluid than the 2011 version.