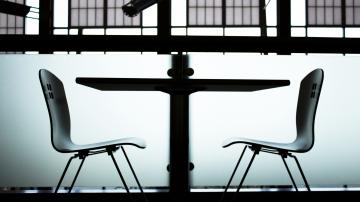 Marie Pfiffelmann, Associate Dean for Faculty Management & Research, encourages collaboration when it comes to defining an impactful recruitment policy in line with the School's research strategy. 
Hello, can you briefly introduce yourself?
Hello, my name is Marie Pfiffelmann. I am a full professor of management sciences with a specialization in finance and a member of LaRGE, one of EMSBS's research centers.
In addition to doing research, I was in charge of Programme Grande Ecole, first as Director of Studies and then as Associate Dean. Last November, I was elected Associate Dean for Faculty Management & Research for three years.
On the one hand, my new assignment concerns faculty—recruiting faculty, creating procedures for career advancement, and optimizing the workload of professors (teaching, research, and administrative tasks).
On the other hand, I work on the School's research strategy, in collaboration with Géraldine Broye, Head of Research & Development, and with the support of the directors of the two research centers. This approach is essential to moving toward research that is increasingly impactful for organizations, of high quality, and recognized internationally.
Can you explain the process for recruiting permanent faculty?
This year, there are 98 permanent faculty members, including 77 professors, 8 doctoral students, and 13 lecturers. The number of professors continues to increase via annual recruitment campaigns.
The School's recruitment policy is based on the Contract of Objectives and Means (COM), defined in agreement with the University of Strasbourg. It allows for the recruitment of up to seven contractual professors each year. Since the number of civil servant posts for associate and full professors is fixed, we can only recruit for these positions when an existing post becomes vacant.
We draft job descriptions in accordance with teaching and research needs. The four heads of academic areas assess the degree to which courses are covered. Their assessment is then used by the Research Committee, made up of the Research Center Directors, the Head of Research & Development, the Dean, and myself.
Of the many candidates who apply, about 30 are invited to attend an interview before a selection committee composed of six external and six internal members (half full professors and half associate professors). Up to seven positions may be offered on a two-year fixed-term contract, which may be renewed after evaluation by the Faculty Management Committee. After four years, these recruits will be offered a permanent contract.
What are the main recruitment criteria?
When examining an application, we mainly assess candidates' research potential.
If they have several years of experience, the committee looks at their number of publications in renowned academic journals as well as their contributions to conferences or seminars. If they are recent PhD graduates, we consider their first publications, conferences, and research potential. To do this, the committee assesses the quality of their dissertation and questions candidates about their research activities and projects.
Other skills are also appreciated, such as the ability to teach in English, to use pedagogical and digital tools, and to join existing research projects and groups (Observatory of the Future, Behavior & Decision-Making).
How important is recruitment to the School's research strategy?
An effective recruitment policy has a direct impact on research productivity in the long run. Welcoming new professors and capitalizing on their research fields allows EMSBS to increase its visibility in some key areas of expertise.
This year, three former doctoral students from the School joined the faculty. This shows that the recruitment of doctoral students is also very important because it allows us to attract young talent and to create a pool of future professors who will be able to apply to work at the School.
It is also important that the recruitment policy align with the School's policy, which is based on international accreditation standards. In order to obtain EQUIS accreditation, whose most important evaluation criterion is research, a recruitment policy compatible with the development of the research strategy must be defined.
What are the objectives for the coming years?
We are in the process of finalizing a proposal for a new Contract of Objectives and Means, which will soon be submitted to the new University of Strasbourg administration.
It aims in particular to increase the recruitment of international professors, to open up more positions for civil servant associate and full professors, and above all to formalize a career advancement procedure for contractual associate professors so that they can join the ranks of contractual full professors.
We are committed to valuing our faculty by implementing the means that will allow us to retain our talent in the long run.
Thank you for answering our questions !