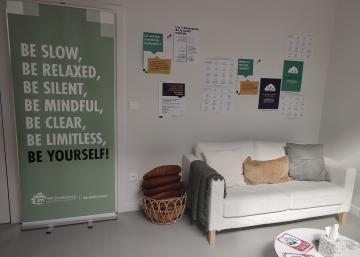 Concerned about the well-being of its students, EM Strasbourg has created a new space for them: a "safe place" in B122 where they can take refuge from the hustle and bustle of their daily lives. The inauguration of this new space took place on Thursday, March 2, 2023.
What is the

Safe Place?
The Safe Place is a collaborative and caring space, open to them at any time, where they can
recharge (especially during times of stress, exams, etc.)

find self-serve risk reduction items (condoms, breathalyzers, earplugs, measuring glasses, etc.) or hygiene products.

exchange openly and freely (this place will regularly host thematic discussion circles)

find information about student well-being topics: a shared library corner allows them to consult books about

mental, sexual, and emotional health;

gender-based and sexual violence;

addiction;

stress management.
The Safe Place

team
Head of the

Student Support Office
Agathe Girbone
CSR

Coordinator
Auréline Gamand
Associate Professor

& Sexual and Gender-Based Violence Coordinator
Marie Lemaire