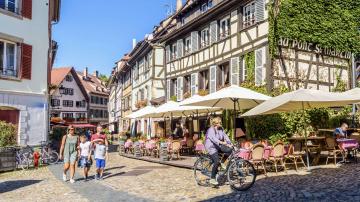 With 600 km of cycle paths and 6,500 self-service bicycles (with a student rate), Strasbourg is the bike capital of France. Practical, ecological, and pleasant, this means of transportation allows you to easily get from point A to point B in a human-sized city. On World Cycling Day, Jean-Baptiste Gernet, deputy mayor of Strasbourg in charge of alternative mobility, revisits life in this unique city for EM Strasbourg.
What, in your opinion, are the advantages of living in Strasbourg for an EM Strasbourg student?
Strasbourg combines the advantages of a large city with the benefits of a living in a small town where everything is close by. Students enjoy rich cultural diversity worthy of big cities in a human-sized environment. It's a rare commodity that students really appreciate. The geographic position of EM Strasbourg and the University of Strasbourg is ideal for students. Unlike other cities and schools, both establishments are truly in the heart of Strasbourg, steps away from downtown.
Our strong policy in favor of cycling is also a major asset. In just a few minutes, students can get around town very easily. By bike, tram, or even on foot, Strasbourg is a very accessible city. It's an incredible place to live.
Cycling also represents an ecological commitment of the city.
Absolutely, it's the first thing that comes to mind when we think of bicycles. This means of transportation allows us to protect the planet, improve air quality, and reduce the impact of cars in the city. In addition to environmental and urban aspects, cycling also plays a role in healthy living. Cycling from one place to the next is simply good for your health.
With the health crisis, many cities are turning more and more to cycling. Is this the ideal means of transportation for you today?
The health crisis and the challenges of life after lockdown have effectively brought the bicycle to the forefront. With all the health measures taken, it is almost impossible for public transit to absorb the same ridership as before. The bicycle appears to be the ideal solution.
In Strasbourg, we have the advantage of already benefiting from numerous cycle paths (more than 600 km in the Eurometropolis). However, we do not wish to stop there. Some roads in Strasbourg still lack bicycle lanes and we are working to develop new ones. 
Several events to promote cycling
The Eurometropolis, the City of Strasbourg, and local associations organize several events during the year to showcase cycling.
The event Au boulot à vélo, organized since 2009, is a great example. The challenge aims to "encourage people to use a bicycle for their daily commute and work-related outings" for two weeks. In 2019, 382 establishments took part in this event, bringing together more than 11,000 cyclists who traveled a total of nearly two million kilometers. The 2020 edition will take place June 15–28.
The Eurometropolis also organizes the annual Véloparade. During the 2019 edition, more than a thousand cyclists took part in this night parade through Strasbourg during the Christmas market.