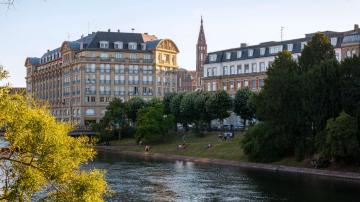 Strasbourg becomes the most popular student city in France according to the annual survey conducted among readers of L'Etudiant, published on September 14, 2021. The Alsatian capital has a recommendation score of 98.98%.
When surveyed, 11,500 readers evaluated 10 criteria on student life for each city: vibrancy, budget, atmosphere, quality of life, housing, culture, transportation, health, sports, and commitment to the environment. Strasbourg's assets highlighted by readers include its richness, its cultural activities, and its European character.
A general ranking was also drawn up by the magazine's journalists according to five major criteria: education, attractiveness, employment, living environment, and student life. Strasbourg finished in fourth place in 2021, up four places from 2020. The Alsatian city is notably tied for first place with Paris for attractiveness. This group of criteria includes changes in the number of students over 10 years, the proportion of doctoral students, and the proportion of international students.