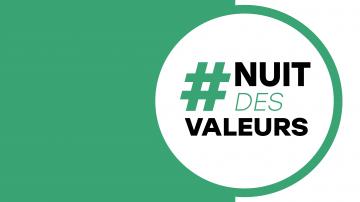 Ethics, diversity, and sustainable development—anyone in contact with EM Strasbourg from near or far is familiar with these words, which represent the School's three values. Each year, they are honored during a day dedicated to them, which happened to be April 6 this year. Approximately 800 students took part in the day's planned activities. Last year, this event was held virtually due to the pandemic, but this year a face-to-face schedule of events was back! So what exactly did the School organize for this special day?
2:00–4:00 p.m.

: team challenge
To start the day, students were divided into teams to complete the challenge Insolit Pro. It led them through the School's corridors in search of nine totEMs representing the three values in order to unlock various small team challenges. These challenges enabled the students not only to test their knowledge of the three values but also to raise awareness and questions. To be dubbed the masters of the three values, students had to collect as many points as possible. Presented for the first time last year in online format, this challenge was back this year to teach students even more about the three values.
4:30–6:00 p.m.

: inspiring conferences
After a half-hour break, students were again divided into three different auditoriums to attend a conference on one of the three values:
In auditorium 3, ethics were in the spotlight with a presentation by Quentin Parrinello, head of advocacy for tax justice and inequality at Oxfam France, and Marie Stadge, a specialist in strategic management of corporate social responsibility. The theme of this conference was the Pandora Papers, a case of approximately 11 million leaked documents showing fraud and tax evasion on a very large scale, which provoked reflection on business ethics.
Diversity was highlighted in auditorium 4 thanks to Marie Lemaire, associate professor at EM Strasbourg, ​​​​​​​Thomas Foehrlé, director of the association SOS Femmes Solidarité in Strasbourg, and Emanouela Todorova, author and creator of the association DBSP Stop au sexisme. They addressed the societal roots of gender-based and sexual violence.
Finally, in auditorium 2, sustainable development—specifically green mobility—was center stage. ​​​​​​​Elodie Thévenet, head of the International Relations Office at EM Strasbourg, Scott Blair, consultant for sustainability literacy in international higher education, and  Oriane Nething, MSc Design & Strategy for the Anthropocene, spoke on this topic. This conference was conducted in English.
For each of the three conferences, facilitators were present to encourage exchange between students and speakers.
The Village of Values,

where associations and volunteers swing into action
In addition to the team challenge and conferences, the Village of Values was set up in the atrium of the PEGE building. EM Strasbourg associations—such as the International Student Association, Start'EM, and of course the Three Values Association—and external associations and participants alike were present. Many topics related to the three values were discussed, such as fair trade, green mobility, food waste, zero waste, water pollution, nature protection, and addiction. These themes were addressed through different activities, and the speakers were delighted to pass on their knowledge. Some even sold environmentally friendly items such as solid cosmetics, menstrual panties, or secondhand clothes.
6:15–8:00 p.m.

: film screening
To conclude the day, a film-debate was proposed in the same auditoriums as the conferences. The proposed film, RUPTURES, followed the journey of six young people who graduated from prestigious schools but chose to follow a path in line with the societal and environmental issues of our time. The film traces their journey and reveals their doubts, their breakaways, and their courage in choosing their own pathway. The documentary was screened in French with English subtitles.
Following the screening, a discussion was led on the solutions put in place by companies to attract young people who want to see change and on the expectations of the new generation.
This is what was lined up for students and staff on this special day. We hope they learned more about these three values that are present in their daily lives.