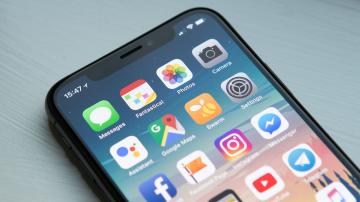 For most of us, our phones have become real lifelines, and for EM Strasbourg students, many applications simply make life easier. Here are six useful applications that should be on every student's radar.
EM Strasbourg

Inside
Everything an EM Strasbourg student needs is in this application, which makes it indispensable! It allows you to stay up-to-date on School life (events and practical information about the School's services, for example) and to access your timetable, your messages, and even a directory of important School telephone and office numbers. Bus and streetcar lines around the School are also listed to facilitate student life. Finally, it allows you to access the JobTeaser Career Center, a platform where you can find internships and jobs!
Affluences
Affluences is an application that allows you to reserve rooms, to find opening hours and addresses, and to know how busy a place is in real time. Hundreds of institutions are partnered with the application, including the PEGE university library, which is located on the EM Strasbourg campus. Thanks to Affluences, students can check the occupancy rate of the library and organize their day by reserving work spaces in the library in advance.
Izly

by Crous
Izly is an electronic purse that allows you to pay for services related to student life. Students can therefore make payments to their higher education institution or to Crous for certain services, without necessarily having their student card on them. This application is a must for EM Strasbourg students because it allows them to access services and tasty meals at the School's cafeteria!
Kwit
This application created by a Strasbourg start-up helps its users to counter the symptoms of tobacco and nicotine withdrawal in order to quit smoking. Motivating and fun, the application proposes relevant objectives and advice. A free version gives you access to everything you need to make smoking a thing of the past, but there is also a more advanced Premium subscription. Kwit is a must for those looking to break the habit of smoking!
The

Sorority
Created by an alumna of EM Strasbourg, The Sorority is an application that allows people to combat street harassment by creating a community to call on for mutual assistance. Free of charge, the platform promotes benevolence and mutual aid between individuals, professionals, and associations. In particular, the application is equipped with an alarm that can be activated to attract the attention of nearby community members in case of danger. The Sorority is a must-have application to boost the safety of those in need!
Stras

app
This new application, released in March 2022, allows the inhabitants of Strasbourg to simplify their lives by centralizing access to the services of the City and Eurometropolis of Strasbourg. It allows you to select your interests, such as the environment or culture, to see a map of useful and/or interesting places, an agenda, etc. You can also see transportation, social networks, emergency numbers, or news for example. This application is a practical tool for organizing your daily life and discovering the city of Strasbourg.