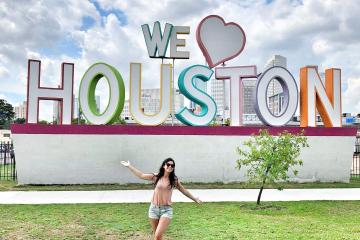 As part of her thesis, Laurianne Schmitt, a doctoral student at the HuManiS Research Center, went on a four-month visiting scholar placement at the University of Houston, with a very well-known professor in the field of marketing and sales. She tells us about her experience.
Hello, could you briefly introduce yourself?
Hello, my name is Laurianne Schmitt. I am a doctoral student at the HuManis Research Center, under the supervision of Jessie Pallud and Eric Casenave. I started my dissertation at the end of 2017 on the theme of the use of social networks by B2B sales representatives.
 
Why did you choose to do a visiting scholar placement during your dissertation?
It all started by applying to CEFAG, a program of excellence for doctoral students, offered by FNEGE. One of the conditions for admission was a research stay of at least one month in a foreign university or at least an official invitation for a stay that will take place within a year.
To obtain an invitation, I simply emailed some professors who are doing research work related to my dissertation. Despite a letter of invitation from a professor at the University of Karlsruhe, I was unfortunately not selected for CEFAG. I then decided to refocus on my dissertation.
 
So how did you end up in Houston?
Among the professors contacted previously, I finally received, a few months later, an offer for a four-month research stay at the University of Houston, with Professor Michael Ahearne. He happens to be one of the most internationally recognized researchers in the field of sales. He has over 12,000 citations for his research work. It was an opportunity I couldn't pass up.
I arrived in Houston last August and for four months I took two doctoral courses. The first was on quantitative methodologies and the second was in the form of a marketing seminar. This was given by Professor Ahearne himself and a visiting professor, Son Kim Lam, who was one of his doctoral students a decade ago. Apart from the courses which already required a lot of involvement, I continued to work on my dissertation.
Did this stay have an impact on your dissertation?
Yes, it was a very enriching experience. I had the opportunity to present my dissertation progress to an audience of several marketing professors and PhD students. Thanks to their feedback, I was able to redirect my thinking. In addition, in order to have the marketing seminar validated, I wrote a paper that has just been accepted at an international sales conference (Global Sales Science Institute Conference).
Any advice for doctoral students looking to do the same?
Go for it! Once you have found the right contact for your topic, you just have to get started. A simple email can make all the difference. A large majority of professors will be delighted to welcome you and to share their knowledge with you.
Thank you Laurianne for taking the time to answer our questions!