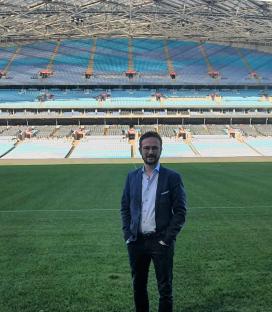 On the occasion of the Euro 2021 soccer tournament, EM Strasbourg Business School (EMSBS) highlights alumni who have distinguished themselves in the soccer industry. Today, Jean-Marie Tardy, Ticketing Project Manager at FIFA, looks back on his studies and his years at EMSBS and gives valuable advice to students wishing to work in this sector.
Which program did you complete at EMSBS?
I joined Programme Grande École at EMSBS after postsecondary preparatory classes in 2009. I chose this School because I wanted to go into the world of professional sports, which the dual degree with the University of Strasbourg seemed to facilitate. After an internship at the end of my first year with Run In Lyon 2010, I spend my year abroad in Nottingham to improve my English.
Afterward, I returned to Strasbourg to finish my studies, choosing the dual degree specialization in marketing and sport management. In parallel to my studies, I was involved in managing the online game Das Boot, and I was part of the team behind PolEMics, the then newly founded student association at EMSBS.
What are your best memories of the School?
Like many, I loved my year abroad as it enabled me to become more open-minded and to discover other ways of thinking and functioning. I also remember a few soccer games with the EMSBS team. But I really think my best memory is the launch of PolEMics. I felt there was a lack of political activities in my first year—especially since I was in the European capital, so when the association was created, I jumped at the opportunity to lend a hand. As everything had to be built, I was constantly learning new things. I think that this was one of the most educational experiences during my studies.
What about your career path?
At the end of my studies, I had the opportunity to join Consortium Stade de France as an intern in charge of marketing research. This experience allowed me to get my foot in the door of the entertainment world and to pursue my career with several customer relations responsibilities within Stade de France teams. Due to a lack of opportunities in sports and after a few months of searching, I accepted a position as a customer support manager in an IT start-up. But I quickly missed the pace and atmosphere of events, so I quit. Determined to return to the world of sports, I then accepted a position in a call center at a start-up specialized in consulting and ticketing services, eForSports. Although I was clearly overqualified for the job, I was able to get back into the field that interested me and handle customer relations for a number of accounts (FFF, PSG, LOSC, ASSE, etc.). Very quickly and thanks to the start-up spirit, I was able to move up to a position of marketing manager and deal with the marketing campaigns of the agency's various clients (FFF, PSG, OL, etc.).
Thanks to my background in both sports and IT, I then signed my first permanent contract with SecuTix, a ticketing solution provider I encountered at Stade de France whose solution had just been selected for the Euro 2016. At the time, SecuTix was mainly supplying the live performance and museum sectors and was looking to expand further into the world of sports. So they were very interested in my profile with an affinity for sports and software management. As a project manager, I was responsible for deploying the solution to customers as well as participating in tenders and other commercial presentations. For six years, I was able to work with many clubs and sports events and broaden my horizons by working with clients in other sectors (live shows, museums, cities). In addition to developing professional skills and using great tools, I was able to build a network among professionals in the sector, both advertisers and service providers.
You are now working for FIFA. What do you do exactly?
I am now a ticketing project manager at FIFA. My job is to coordinate all ticketing activities for tournaments organized by FIFA (Men's and Women's World Cup, Senior, U-20, U-17, Club World Cup, e-sport). It involves representing the ticketing division among the other FIFA divisions in charge of organization. Respecting deadlines and budgets and defining pricing and commercial strategies for ticketing are all within my scope. My extensive knowledge of the ticketing system also allows me to assist teams in the operational delivery of events.
What do you like most about this job?
In addition to the reputation of my employer, I enjoy being able to discover the functioning of an international organization, to exchange with colleagues of different nationalities, and to visit new cities and stadiums. For example, I've just returned from a month-long stadium inspection in Australia and New Zealand for the FIFA Women's World Cup 2023.
The ticketing sector was impacted by the health crisis. How do you think we can get the ball rolling again?
From a spectator standpoint, we just need to throw the ball back into play. Based on the few sales that have taken place, the public appears to be eager to return to cultural venues. However, this return to cultural venues can only take place if public confidence is restored from a health perspective. We must not rush and run the risk of creating new clusters. Developments in terms of vaccination and traceability are, in my opinion, the first steps toward a return to full stadiums. The pandemic has led to an acceleration in the digitization of many services for fans, particularly with respect to ticketing. This should make it easier to provide valuable services to both fans and the relevant authorities to help safely bring the public back to the stadiums.
You have worked in many sports organizations: Stade de France, Euro 2016, SecuTix, etc. What excites you about the sports industry?
I fell in love with soccer during the 1998 World Cup and became fascinated by all the emotions expressed and shared by hundreds and thousands of unconnected people. I'm fascinated by its ability to bring people together, to push people of all backgrounds to cheer for a team, to embrace one another in times of victory, and to cry together in times of defeat. From a professional point of view, the adrenaline of event planning is an important driver. You spend months or even years preparing for an event and knowing that despite all the preparations there will be unforeseen events that you will have to deal with in a matter of seconds. Whatever you do, each event is unique and brings its own set of challenges, which makes you appreciate the period of calm before the next event.
Do you have any advice for EMSBS students hoping to work in the soccer industry?
The soccer industry as well as the professional sports industry in general is not an easy industry to get into, and sometimes you have to rely on a little luck. I have to be honest about that. However, this does not mean that it is impossible to find work in it. I entered professional life with no network in the sports world, but I didn't give up. That's the first piece of advice I'll give: don't give up. Then, give yourself the means to achieve your goals and don't be afraid to prove yourself in jobs that are less interesting or unrelated. Set goals for yourself. For me, I wanted to first get into the business. Then, I wanted to work on the Euro 2016, which SecuTix allowed me to do.
Finally, my recommendation at the beginning of a career would be to diversify your experience and try to understand how the ecosystem works. Clubs often rely on many partners and service providers to deliver on their behalf. Working for an agency or service provider that handles several clients in the sports world allows you to understand different issues and broaden your horizons—and contacts. You can easily draw on this experience and network later in your career.