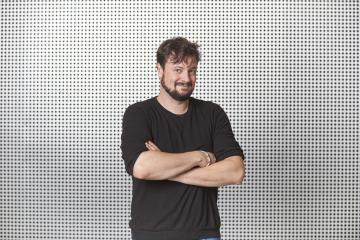 Thomas Coudert has been appointed associate dean of the bachelor's program at EM Strasbourg Business School (EMSBS). He will codirect this excellent program with Didier Wehrli, the current associate dean, until the end of the academic year. Thomas Coudert will fully take the reins in September 2022.
Thomas Coudert has been an associate professor at EMSBS since 2019. His mission will be to achieve the national and international objectives set for the Bachelor of International Business. Starting in fall 2022, the program will offer a new European track in partnership with two European institutions: HEC Liège (Belgium) and the University of Hohenheim (Germany). Students will spend one year on each campus and earn a triple degree upon completing the program.
Under the direction of Didier Wehrli since 2012, the Bachelor of International Business has established itself as a major postsecondary program in higher education. It is one of the few locally developed bachelor's programs in France to have received state recognition for a duration of four years. 
Didier Wehrli will continue to work at the School where he will contribute to the growth of entrepreneurship within EMSBS in a coordination role. The expertise of Didier Wehrli, vice president of the association Entreprendre pour apprendre Grand Est, will be a considerable asset for EMSBS. "I would like to thank Didier Wehrli for his ongoing commitment to this program, which he will continue to demonstrate within the School in favor of entrepreneurship," says Herbert Castéran, Dean of EM Strasbourg Business School.
"Since the creation of the Bachelor of International Business, my motivation has always been to make the time students spend at EMSBS count toward the fulfillment of their personal and professional objectives. This same motivation pushed me to adopt a pedagogical approach supporting entrepreneurial projects three years ago in order to establish the foundations of our entrepreneurial activities," says Didier Wehrli.