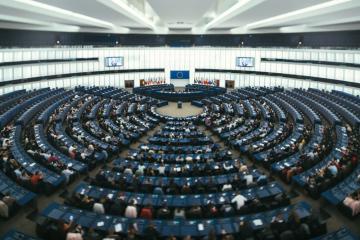 EM Strasbourg organized a conference on the future of digital technology in Europe in the chamber of the European Parliament on Wednesday, October 10, 2018. This event, organized as part of the launch of the CLUE course set, was attended by 400 master's students, with special appearances from five MEPs, research lecturers at EM Strasbourg, and company managers.
New at EM Strasbourg Business School for the 2018-2019 academic year, CLUE is a new course set that oversees the School's initiatives on the international scene in general and in Europe in particular. "Our aim is to give greater prominence to our intercultural dimension," stresses Enrico Prinz.
The chosen acronym is self-explanatory:
C for Cross-cultural skills: lectures and classes on intercultural management
L for Language excellence: access to the Language Learning Center and goFLUENT e-learning platform
U for Uncommon activities: visits to European institutions
E for European leadership: lecture on economic and social challenges in Europe
Through its mandatory activities, CLUE raises awareness about intercultural management and the European economic context and improves students' proficiency in English. Thanks to this course set common to all programs of study (from undergraduate to master's programs), future human resources professionals, logistics coordinators, financiers, marketing specialists, and others will be able to learn to work together in an international environment.
"This approach will enable them to get to know each other better and to create a network outside their speciality," explains Marie-Hélène Broihanne, Associate Dean for the Master's & Executive Education Programs at EM Strasbourg. This course set aims to give students the tools to thrive in a multicultural context, in particular by reinforcing their European culture and giving them the keys to a management style open to others in order to increase their employability.
This approach is part of a broad process of the School's internationalization in terms of the courses it offers, its relations with companies, the recruitment of professors, and the coordination of the Alumni network. With a constant desire to train agile and adaptable managers for new professions, digitalization is also one of the new challenges that the future graduates of EM Strasbourg will have to face.