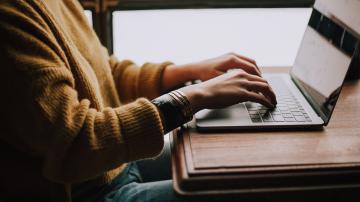 Each year, nearly 450 students at EM Strasbourg opt for a co-op program. By combining their studies with work, they apply the theoretical knowledge learned in class and prepare for the job market. 

Since it can be difficult to imagine life as a co-op student, we have highlighted for you the practicalities and advantages of such a program and interviewed Sofian Hammich, a co-op student in the PGE master's program specializing in negotiation and sales management at EM Strasbourg.
Co-op at EM Strasbourg:

who is it for and how do you sign up?
First of all, it is important to specify that there are two tracks within EM Strasbourg's PGE master's program that offer co-op. The Hybrid Track offers one year of co-op: students choose from among the 10 third-year specializations with co-op. The Co-op Track, unveiled at the start of the 2022/2023 academic year, offers two years of co-op: students who choose this track commit to a 24-month contract with their host company.
A dedicated team guides the School's co-op students every year. Bérangère Collet, Head of Internships & Co-op, is currently in charge of welcoming co-op students and making practical arrangements related to co-op.
Finding the right host company

and professional tasks
Choosing the right host company is critical since co-op lasts a year or more. Moreover, many students sign their first permanent contract upon completing their co-op program; the company's sector of activity, values, and activities should therefore align with your interests.
This is precisely why Sofian Hammich joined his current company, Salesforce, a leading American software company in customer relationship management solutions.
While browsing LinkedIn, he was immediately attracted by the company, which was recruiting co-op students in France for the first time.
He joined Salesforce for three major reasons. First, in his opinion, the company represents "the best sales school in the world." The dynamism of the tech sector also attracted him; in 2021, the company achieved 23% growth, a promising figure, reflecting a booming business. Finally, Salesforce is a company with strong values: "ethics, customer relations, and diversity are at the heart of our priorities . . . it's a pleasure to work in such a rich and diverse environment."
What is the daily life

of a co-op student like?
This is no secret, but the key to success for a co-op student is good organization, which allows you to easily follow the rhythm imposed by this program. Sofian is convinced that active listening in class is an excellent way to assimilate the theoretical notions of his master's degree: "The more concentrated you are in class, the better you assimilate the information. This allows you to approach the weeks in the company with peace of mind." He finds his co-op schedule comfortable: two weeks in the company followed by a week of classes allows him to balance his daily life.
In addition to choosing the right company, it is important to consider the tasks proposed.
When he is not in class, Sofian is a sales trainee: in concrete terms, he is required to work on three major tasks: prospecting, the sales cycle, and contact support. Passionate about sales negotiation, he prospects for appointments and offers Salesforce solutions to potential customers. He then intervenes in the sales cycle by participating in its various stages. Finally, he supports different contacts through presentations and contributions on various subjects.
Sector of activity and career prospects:

how to imagine your future
Giving meaning to one's work, imagining a future in the company, being proud to work for the company—these are all factors that are gradually appearing in the corporate ideal of French employees.
One thing is certain: if the sector of activity of the host company is attractive and promising, this is a winning combination because the employer will multiply his chances of keeping the student for his or her first permanent contract.
A forward-looking sector, technology, and a fast-growing company is what Sofian found at Salesforce: "We're entering a new era: the fourth industrial revolution . . . I can imagine myself at Salesforce in the future not only because of its values but also because of the great career prospects the company offers."
Working in a promising sector whose current stakes will only increase in the years to come can convince a co-op student to stay with his or her company in the long run.
More and more companies are offering graduate programs, allowing recent graduates to "do an elite training program and climb the ladder quickly, while reinforcing management's ability to train future operational managers attuned to company culture." (L'étudiant, 2021). This is the case with Salesforce; Sofian is already looking forward to this demanding program, which will help him continue to evolve at Salesforce.