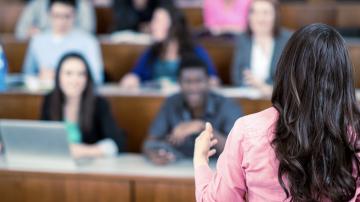 Confronted with foreign competition that is very comfortable with new technologies and social networks, French winegrowers must get the measure of these tools, which are intended to boost their marketing and sales approach, especially internationally. An urgent shift in direction is needed according to the speakers at a round table on "Digital and wine: a paradigm shift" recently organized at EM Strasbourg.
The conclusion is clear. The rise in power and quality of foreign production and the fall in the average consumption of wine in France puts French producers in a delicate position. Their strong dependence on mass distribution, which devours margins, does not help the sector's situation. In this respect, the situation of the Alsatian vineyard is emblematic: "With 70% of the volumes sold in France - a declining market - and mainly through supermarkets, Alsatian winegrowers are under very strong pressure on prices, despite their superbly crafted wines," explains Nadia Lelandais, an expert in wine marketing and strategy. In detail, where the level of reputation of Bordeaux wines could be said to be at a 50, that of Alsace wines is at a 3. "A good combination of AOC, wine tourism, and reputation generally allows to increase the selling prices by 10 to 15%," she adds, illustrating the level of the shortfall.
Challenging Your Digital Habits
An observation that requires winegrowers in Alsace, but also in France more broadly, to question their habits, particularly digital ones, as online tools must now be considered as an integral part of the value chain. "It is an unquestionable lever to win over customers in France and abroad," says Arnaud Tarry, founder of Wine Cluster, which develops digital solutions for winegrowers and their customers. Unquestionable, but not yet sufficiently integrated: a study conducted by Coralie Haller, research lecturer at EM Strasbourg and head of the Wine Management & Tourism cycle, reveals that 10% of Alsatian wineries do not have a website. And those that do have one are far from exemplary, with 40% of sites in French only, 58% not being market-oriented and only one in two having a responsive design. While the trend is towards local distribution networks and disintermediation, digital and social networks facilitate direct dialogue between producer and consumer. For Mathieu Lasne-Villoing, founder of the website sommelierparticulier.com, it is also a way to "sell authenticity at a fair price, rather than marketing at a cut price to recreate value".
Don't Forget the Role of Wine Tourism
This situation must steer French vineyards to a deeper questioning of the way they communicate and exchange with their customers. To do this, they can capitalise on a strong wine tourism dynamic which is a unique opportunity to create a personal link with consumers, as Jean-Christophe Harrang, from the Alsace Attractiveness Agency (AAA), reminds us. As long as you know how to maintain this afterwards through a website and clever use of social networks used. In any case, one idea that is gaining ground is to create a collective dynamic, driven by clusters of winegrowers, marketing, and new technology specialists working with teaching and research organizations. All of this at the service of a part of French culture, a factor of international influence, which must now get to grips with the tools of the 21st century.