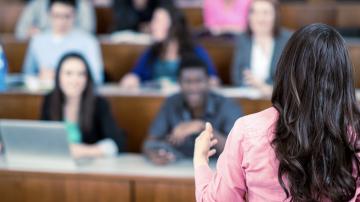 Territorial reform and future super regions inevitably raise the issue of local tourist identities. Gathered together at EM Strasbourg for the second Afmat (Francophone Management and Tourism Association) conference (see box), professionals and researchers addressed the issue during the inaugural plenary conference on "Territorial Organisation and Tourism".
Developing Environmental and Wine Tourism
"I see a lot of opportunities in this territorial reform ," Ulrike Leibrecht, managing partner of the Château de Pourtalès, enthuses, "it would be an opportunity to strengthen environmental tourism and make Strasbourg a green city, like Freiburg in Germany for example". Playing on local identity is also the credo of Hervé Louis-Rhodes, a hotel owner in Strasbourg and Sausheim. On the site of his establishment in the Haut-Rhin department, he had 70 vines planted and created a walking path for tourists and businessmen passing through to discover the 7 Alsatian grape varieties in order, drawing their attention to the regional wine-growing tradition. For his part, Tony Valentini, director of the Chocolate Museum in Strasbourg, is calling for research into new tourist opportunities to be developed in the future super region: "The Champagne-Ardennes, Lorraine and Alsace region will be home to six of France's largest brewers," he says. "This is an interesting alliance in a region that is keen to forge partnerships with Franche-Comté, Lorraine, Germany and Switzerland," says Philippe Choukroun, for the Alsace Attractiveness Agency. It's even a prerequisite for surviving in a competition that is played out on a global scale.
 
Putting Customers and Businesses Back at the Center
"The identity of the territories and their products will not change, but the structures for financing these identities will." states Jean-Louis Vézien, director of Civa [Conseil interprofessionnel des vins d'Alsace]. And that will be key to ensuring this sector's survival. Alsace will continue to exist with its own tourist identity, but the resources allocated to its promotion risk being diluted in the new super region of which it will be part. However, the stakes are high: tourism accounts for 7% of the Alsatian GDP or €2 billion, without forgetting the 37,000 jobs directly and indirectly generated by this industry.
On the structural level, the simplification of the administrative red tape, the tourism agencies, and committees, is one of the stakes of the reform, as well as redefining their responsibilities. This should, however, have no other purpose than to put in place strategies to encourage tourists to make more purchases. "And above all to be happy to do so. The public debate around territorial reform does not take into account customers and companies", laments Marc Lévy, director of the ADT 67. "We cannot forget them!", he adds. Because although France is competitive in terms of welcoming tourists, "the average expenditure per tourist is less and less", he reminds us.
Territorial reform could well give rise to ambitious projects without upsetting the current scope of the tourism sector... as long as that the financing matches with the ambitions.