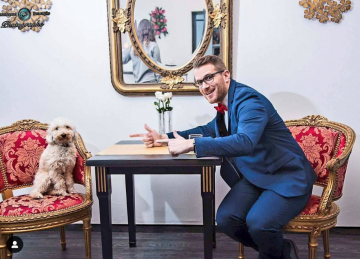 Julien RENOUF is a graduate of the Master of E-marketing and Digital Strategy program at EM Strasbourg. After studying Chemistry, Julien took a U-turn and finally decided to dedicate his professional life to digital communication.
Connection with a Blogger from Strasbourg.
 
Julien RENOUF's career path has not been a straight line. He has had a kind of double life after studying chemistry at the University of Strasbourg (first-year master's level). He has held jobs in retail, printing, and advertising. "My career path has mainly evolved according to my passions and the jobs I've been able to do. He is quite atypical. I like the idea of having several professional lives throughout my personal life." Working by day, blogging by night, Julien has a full life in which he has found his balance. Organization is the key to his success. "Over time, I got used to getting organized! I devote an average of 10 hours a week to writing articles, but also to watching what is happening elsewhere, co-ordinating my social networks, managing my emails, and attending events..."
The Project: Blog Kapoué 
Blog Kapoué celebrates its 10 year "In 2010, I was very active on Twitter, and like everyone, I was limited at the time by the number of characters per tweet. It was difficult to fully express myself! So I opted for a blog because it was easy to access, easy to manage and didn't require any particular knowledge. I was already a fan of my city at the time and I wanted to share my passion with as many people as possible!" Since then, the Strasbourg blogger hasn't stopped. Even today, he is surprised to meet long-time readers of his blog. "It's very rewarding and it gives my project meaning!" Curious and eager for new things, Julien loves meeting new people and having new experiences in Strasbourg or in the Alsace region. "I probably would never have been able to do all this without my blog!" Blog Kapoué allows Alsatians and also tourists to discover Strasbourg and the region: restaurants, bars, events... Alsace's secrets will all be revealed after discovering the blogger's good plans.
Resuming His Studies at EM Strasbourg
In September 2018, Julien decided to resume his studies and followed the Master of E-marketing and Digital Strategy on the co-op track. "I already had some knowledge of digital, but I wanted to change my career and move on to more technical positions, with a more global vision of digital marketing. I had been advised to take this degree following a skills assessment. EM Strasbourg was an obvious choice for me because of the School's reputation and seriousness. Being a blogger is trendy, but it requires a certain rigor, just like resuming your studies," Julien explains. "A little bit of creativity, a subject you are passionate about, a lot of technique and regularity... We mix it all together and add availability and personality, which gives you a good recipe for getting started!"
Find him on Instagram