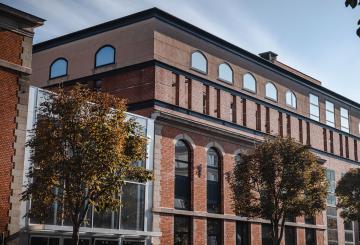 As Crédit Mutuel joins the donors of EM Strasbourg Business School's Customer Experience Chair, this is a further sign of recognition for its research and teaching teams as well as for its students. For Crédit Mutuel, this agreement reflects the importance it attaches to customer relations in its business and its determination to strengthen its regional roots. Under the aegis of the Unistra Foundation, the two institutions sealed this partnership on September 20, in the presence of all of the Chair's partners.
Created two years ago, EM Strasbourg Business School's Customer Experience Chair continues to welcome prestigious partners. After Schmidt Groupe, Hager Group, and the SIG Strasbourg professional basketball club, Crédit Mutuel is the latest institution to join the partners of the chair run by Claire Roederer. Crédit Mutuel has chosen to support academic research on the theme of customer experience, which is at the heart of its strategy.
The issue for Crédit Mutuel is therefore that of customer experience in the face of the digital challenge in its lines of work. This is at the heart of its ensemble#nouveaumonde [together#newworld] strategic plan for 2019-2023, launched at the end of 2018, and which aims to make Crédit Mutuel the benchmark customer relationship bank by going ever further in transforming the customer experience. As Eric Petitgand, deputy CEO of Caisse Fédérale du Crédit Mutuel, explains, this field of investigation fits perfectly with the area of expertise of EM Strasbourg's Customer Experience Chair. "Faced with this radical upheaval, it was essential to get closer to the Chair, its research and foresight work, and to collaborate with the other business sectors it represents".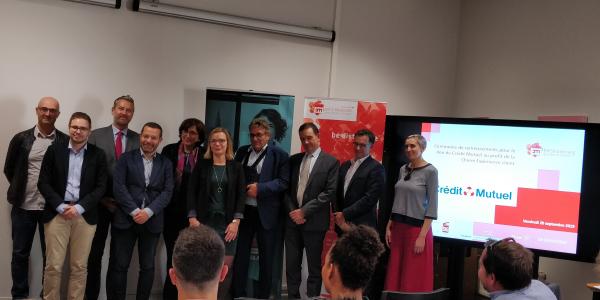 Enabling Students to Meet Companies
"Already today, numerous projects have brought our students and partner companies closer together," explains Claire Roederer, thus underlining one of the other benefits of the Chair, which is to enable companies to make themselves known and to help future graduates discover the jobs they have to offer. Martial Bellon, President of SIG Strasbourg, recalled his attachment to the theme of customer experience and its strategic importance. Sabine Aupetit, Head of Strategic Marketing at Schmidt Groupe underlined the interest in the actions undertaken by the Chair with EM Strasbourg students.
 
A "place to meet people and pass on knowledge", as Herbert Castéran, the Dean of EM Strasbourg, puts it. He also underlines the correctness of EM Strasbourg's positioning and that of Unistra on which it depends, both institutions being particularly open to the business world widely recognized for their scientific quality.