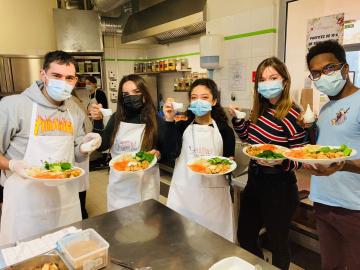 Three teams of students from EM Strasbourg Business School (EMSBS) will compete in a food truck competition on January 13 next to the School from 11:30 a.m. to 2:30 p.m. This culinary event is the final chapter of EM's Kitchen, a unique educational initiative supporting charities that has mobilized 400 students over the course of five months.
Spotlight on 

EM's

Kitchen
Created in 2019, EM's Kitchen is a flagship activity for students in the PGE master's degree at EMSBS. It is organized by Cap Career, the School's personal and professional development office. Through culinary challenges, the 400 second-year PGE students, divided into 24 teams of 15 people, develop their soft skills such as teamwork, listening skills, organization, communication, and stress and time management. These are key skills in their future careers as executives and managers.
A 2022 edition focused on

 food trucks
For this edition, EM's Kitchen has been completely redesigned. While this event used to take place in January, it now runs from September 2021 to January 2022. This new edition of EM's Kitchen gives students the opportunity to gain experience managing a long-term project in groups and all that it implies: bringing team members together around a common objective, keeping each other motivated, and distributing tasks according to personal strengths and interests.
At the beginning of the academic year, each team was given a cooking theme and target audience. From September to January, the students set up a food truck (market research, marketing strategy development, profitability analysis, creation of a signature dish). To do so, they were guided throughout the challenge by personalities from the Strasbourg gastronomy scene.
On January 4, the 24 teams pitched their ideas to a jury composed of members from EMSBS and Cuisine Aptitude, a cooking school in Strasbourg; 12 teams qualified for the semifinals.
These 12 winning teams had to cook their signature dish on the premises of Cuisine Aptitude with an allotted budget on January 4 and 5. After the jury tasted the dishes, three teams entered the final, which will be held on January 13.
A 2022 final

in support of charities
During the final, each team has its own food truck. Teams have €250 to produce 100 portions of their signature dish and set their own selling price. The winning team is the one that generates the most sales. All proceeds from the sales of the signature dishes will be donated to charities chosen by the teams.
The quest for meaning and community involvement are more than ever present in the minds of students. Through these events, EMSBS wishes to give them the opportunity to make an impact.
The three

finalists:
Team 1: Dragon's Meal
Imposed theme: Asian – fast food
Imposed target audience: 16- to 30-year-old students and young professionals in a hurry with a small/medium budget
Signature dish: Korean street food sandwich (KSF)
Selected charity: Alsace contre le cancer
Team 2: A la bonne fr'EMquette
Imposed theme: French – organic food
Imposed target audience: 18- to 40-year-old students and upper middle class people who are environmentally and health-conscious
Signature dish: Tartiflette
Selected charity: La ligue contre le cancer
Team 3: The Mac'N Truck
Imposed theme: North American – locally-grown food
Imposed target audience: 18- to 30-year-old students and young professionals
Signature dish: La Munster
Selected charity: Afges