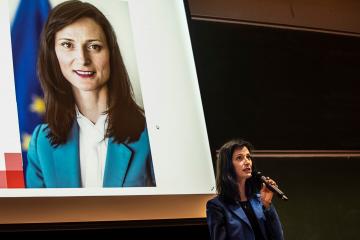 Mariya Gabriel, European Commissioner for Innovation, Research, Culture, Education and Youth, becomes the guest of honor of the 96th class of Programme Grande Ecole at EM Strasbourg Business School (EMSBS). In welcoming this exceptional guest, the School reaffirms its position as a European institution.
Mariya Gabriel's commitment to the students of EMSBS is further recognition of the School's international focus, as she plays a major role in the development of European higher education. The Commissioner addressed the School's students for the first time at a conference on September 14, 2021, on the topic of "opportunities offered by Erasmus+ and Horizon Europe for higher education." Over the course of an hour, she presented the opportunities offered by the European Commission's new program:  Erasmus+. More environmentally friendly, digital, and inclusive—Erasmus+ is better suited to student expectations and has a significantly larger budget than its predecessor. The Commissioner also responded to several questions posed by students regarding, for instance, the functions of the European Commission, her role, and her duties as European commissioner. Mariya Gabriel will accompany EMSBS students throughout the three years of their program.
"EM Strasbourg Business School has made its geographic position in the heart of Europe a strategic pillar of its educational program. This school produces not only competent managers but also committed European citizens. As Commissioner for Education, Research, and Youth and a former Member of the European Parliament, I am particularly receptive to this commitment to Europe. It aligns with the aim of the European Commission: to promote quality, competitive, multilingual higher education embodying European values. Europe needs entrepreneurs who are ready to tackle the societal challenges of today and tomorrow."

Mariya Gabriel, European Commissioner for Innovation, Research, Culture, Education and Youth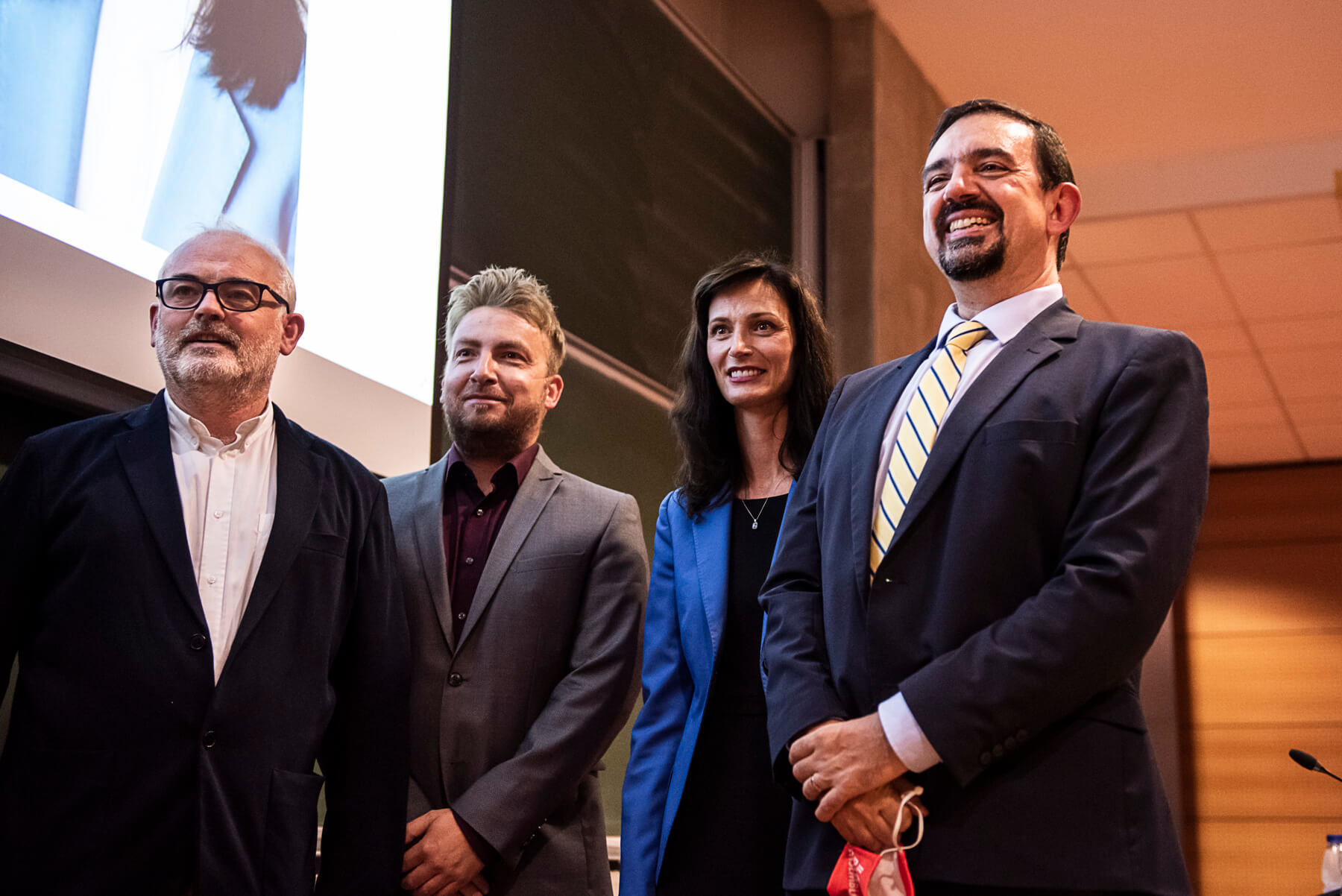 From left to right: Kevin MacGabhann (Associate Dean for International Relations), Enrico Prinz (Director of Internationalization), Mariya Gabriel, Herbert Castéran (Dean)
"We are deeply touched and proud that Ms. Mariya Gabriel, European Commissioner, has become the guest of honor of the class entering Programme Grande Ecole at EMSBS this fall. She naturally embodies not only the School's European identity but also the values of diversity and excellence to which we are so attached. She is an inspiring example for all EMSBS students, who have a golden opportunity to learn from her unique European experience."

Herbert Castéran, Dean of EMSBS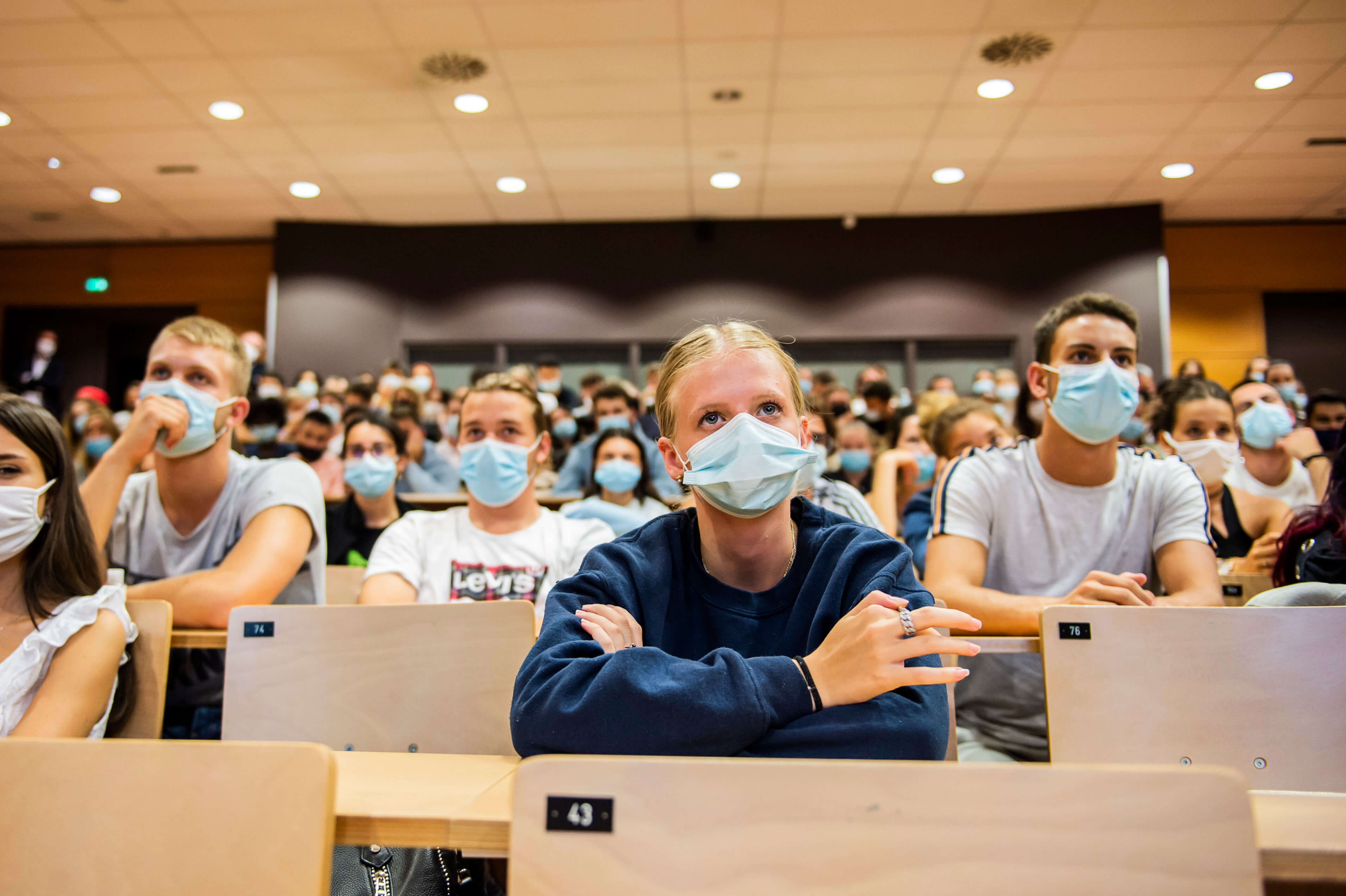 European Spirit
Mariya Gabriel's visit to the School illustrates EMSBS's European spirit. For several years, the School has placed Europe at the heart of its activities. EMSBS has notably developed CLUE, a unique, cross-program set of courses and learning activities revolving around Europe, which is compulsory for all students. But EMSBS has no intention of stopping there: it is currently strengthening its European identity through several projects. Starting this fall, students can enter a trilingual European bachelor's degree offered with HEC Liège (Belgium) and the University of Hohenheim (Germany). The School is also setting up a satellite campus in Kehl, Germany, a few minutes from Strasbourg. This campus will be home to the School's new Cross-Border Management Institute (COMMIT), which will unite and showcase current cross-border programs and new innovative European study tracks. The site will also host research activities and continuing education programs that will actively contribute to the development of European cooperation.