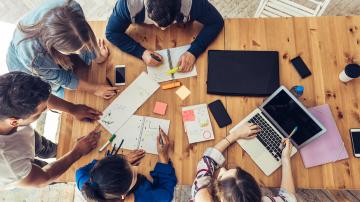 In business school, you become a professional thanks to internships, but not only! Prospect'Act is a learning opportunity dedicated to putting knowledge into practice. It involves assignments that link PGE students to companies: by searching for resources, applying practical methods, and doing analysis, students provide an operational study to a partner company of the School. Assignments are chosen and carried out by groups of students, who thus gain insight into the professional world. Pauline Dumoulin, a second-year student in the PGE master's program, shares her experience.
Varied and comprehensive

assignments
Pauline's group worked for a French start-up in the field of hair cosmetics with a view to expanding internationally, especially in Europe. The start-up wanted a market study, a competitive analysis, and a legislative study in three countries. "To identify these three countries, we began by creating and then administering questionnaires in a dozen countries to determine the areas where there was the most interest. Once the countries were selected, we were able to analyze the responses to the questionnaires and conduct additional research that was also analyzed before drafting the deliverable. At the end of the assignment, we presented our findings to the company and our Prospect'Act supervisor."
Other assignments are carried out for large groups or entrepreneurs and can cover various fields, such as communications or brainstorming to propose development ideas for companies. Before embarking on an assignment, students form their group and choose the assignment they wish to carry out. Some prefer to contribute their knowledge and ideas to small companies, whereas others prefer large companies, which often allows them to get an idea of what it is like to work for a large group.
A very rewarding

assignment
For Pauline, "Prospect'Act is a very rewarding assignment, both from a personal and professional point of view." Indeed, this learning opportunity allows students to gain experience in project management: "we learn how to approach a project, manage tight deadlines, handle potential problems (we, for example, encountered difficulties administering questionnaires in some countries), and work as a team." The assignment also requires people skills: the teams have to keep in close contact with their company, which is a bit like a client.
A concrete application of

theoretical knowledge
Prospect'Act makes it possible to put into practice everything that is learnt in the first semester of the first year, particularly with respect to strategic analysis. For example, Pauline's team carried out an internal and external analysis of their company using tools learned in class and additional research carried out on the internet to study the brand's competitors. All this complements Entomovoria, a first-semester fictitious case study, which was more guided. Prospect'Act is a logical continuation of this.