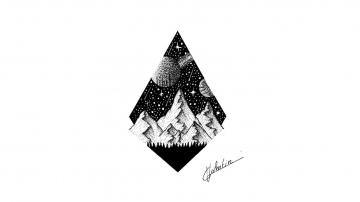 A recent graduate of the Master of E-marketing program at EM Strasbourg, Valentin Greder is also an accomplished Instagrammer and a young entrepreneur. What underpins his multi-talented profile? His passion for drawing.
E-Marketing and Digital Strategy Training
Since 2018, Valentin Greder has been passionate about black ink drawing, and regularly publishes his works on Instagram. Very quickly, he saw the possibility of marketing his work: "I've had requests to make bags or t-shirts. But also, quite often, to design tattoos." Enthusiastic about his first orders, Valentin decided to set up a sole proprietorship after his studies. 
When applying for the co-op track of the Master of E-marketing and Digital Strategy, Valentin Greder already held a Master of International Marketing. He hopes to develop web project management skills. "I spoke to the recruitment panel about my designs and my e-commerce website project. This was one of my main motivations for joining this program."
His studies at EM Strasbourg is enabling Valentin to develop a strategic vision of digital marketing. He is learning how to optimize sales tunnels and discovers new areas of expertise. "We have had courses on digital law and copyright, which were very useful for me, because I knew nothing about it. As an artist, I regularly see my works used without my agreement, on social media. I have learned to deal with these types of problems, which are mostly settled amicably. And I now know what to do when discussion is not enough."
As part of his master's degree, Valentin Greder completed a co-op placement at Achatmat in Strasbourg. The company aims to improve the web visibility of products sold to professionals in the construction sector. For him, it's an opportunity to hone his e-marketing skills: "I had the opportunity to optimize pages that didn't have much visibility, to create text and visual content to provide information for product sheets. It is a matter of informing the customer correctly and dynamically."
 
"I draw with three different black or white ink pens, a sheet of paper, a ruler and compasses. It's basic and accessible, there's no reason why anyone can't do it!"

Valentin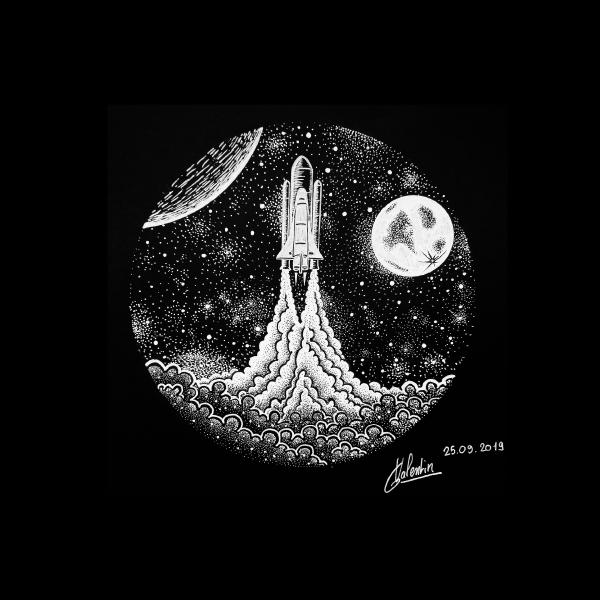 The Prospect of Creating a Business.
Since he started his artistic endeavors, Valentin Greder's drawings have generated occasional income. This encourages him in his plan to set up a sole proprietorship. "I would like to sell my drawings business to business, but also on an e-commerce site for the general public. In particular, I plan to buy a laser engraver so I can decorate objects with my illustrations."
Valentin's strategy is to continue working in web marketing as a freelancer, and to develop his business in his spare time: "I continued to work with Achatmat after completing my co-op placement. I offer them my freelance services in web copywriting, alongside SEO. I also do competitive intelligence". In addition, he is passionate about how social networking algorithms work, in order to promote his work as a creator. This has been a successful choice for him, since his Instagram account @a_line_going_for_a_walk has nearly 17,000 subscribers. He posts on this account in English, which allows him to interact with a very large audience, and to create partnerships with artists and companies from all over the world.
He encourages those who would like to make a living from their art to get started, even if they have a limited budget: "I draw with three different black or white ink pens, a sheet of paper, a ruler and compasses. It's basic and accessible, there's no reason why anyone can't do it!"