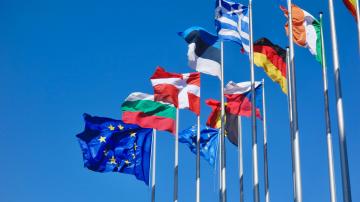 Languages are important at EM Strasbourg. Indeed, we boast French-German and French-English study tracks. The School makes it a point of honor for each student to obtain not only a B2 or even C1/C2 level in English but also language certifications such as TOEIC. The goal is clear for our students: to make progress and acquire certifications. But since this is easier said than done, we are here to guide you.
First step:

make progress and obtain a B2 level in languages
Let's start with making progress and achieving a B2 level, which is our first step in linguistic success throughout your studies at EM Strasbourg. This level is awarded by our language teachers at the end of the first semester. To achieve this level, it is important to actively participate in class. In addition to learning in class, you can also progress in languages independently. Here are a few small tips: watch series and films in their original language with subtitles, regularly review the vocabulary and grammar given by your language teachers, or listen to podcasts on different subjects to gain a rich vocabulary.
Students at EM Strasbourg also have access to the Language Learning Center (LLC), where teachers welcome and guide students in developing their language skills. There are many learning resources, such as films in their original language, in different languages like English, German, or Chinese. In addition, there are resources for about 20 less popular languages like Greek and Dutch for example. Of course, the Language Learning Center also has resources for preparing for language certifications such as TOEIC. Finally, to go even further, you can find a language buddy. The principle is simple: you meet native speakers of the language you want to learn. You both speak the language you are learning to one another and correct each other's mistakes, which allows you both to improve your language skills.
Second step:

obtain certifications
Let's move on to certifications, which are the second step in your language studies and very important for going on exchange or working abroad. Let's start by defining language certification. Language certification allows you to attest your language level (A1, A2, B1, B2, C1, C2) based on the results of an official exam. The advantage of these certifications is that they are recognized internationally. Certifications like TOEIC or TOEFL can be an asset in your job or internship search.
If you plan to go on exchange, find out which certifications are required. Below is a brief description of the main certifications:
TOEIC Listening & Reading measures written and oral comprehension skills in business English.
TOEFL measures written and oral comprehension and expression skills in academic English.
IELTS is one of the most renowned tests in the world. It also assesses written and oral comprehension and expression skills in academic English.
It is also important to know that while the content is mostly similar, duration and difficulty vary. For most certifications, there is a dedicated platform where students can register and choose their test dates. There is also a fee to take the certification, which is paid at the time of registration. EM Strasbourg offers its PGE and BIB students the possibility of taking the TOEIC certification for free since it is a graduation requirement in these programs.
Of course, before taking your certification, it is best to practice. There are many platforms to train on, but we recommend the Global Exams platform because there are different forms of training that adapt to your level, enabling you to progress quickly.
Third and final

step
Wishing you good luck!