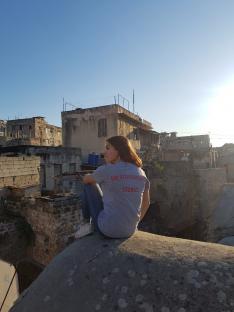 Alicia Lamothe is a passionate and fascinating student on account of her background, values, and dedication. In this article, she reflects on her studies and the role of Cap Career, the School's career service that supports students in their personal and professional development.
Cap Career: "I never thought I'd find such strong, consistent, and genuine support."
To say that I developed my plans, goals, and vision for the future on my own would be a lie. I certainly worked a lot and weighed the various projects I have been involved in, but I could not have done it so serenely without Cap Career at EM Strasbourg Business School. It's very difficult to choose a career path at the age of 20. It was at that age, in 2017, when I pushed open the door to Cap Career. I had questions about the professional gap year I was going to have to plan in the following months.
I never thought I'd find such strong, consistent, and genuine support. This support allowed me to put what I was feeling into words, to pinpoint what really interests me, what fascinates me, and what makes me move forward.
I spoke a lot about what I wanted to do but also about my anxieties with respect to the world of work, my perception of the future, and the struggles I've had to overcome until now. This long journey is complicated, climbing the ladder year after year and asking yourself that famous question: "Well, how am I going to start my career?" This question is far too important to answer on your own, without sound advice. That's exactly what I found at Cap Career: advice and unwavering support at each new stage.
Pauline Govart, head of Cap Career, has been checking in with me since that famous year, 2017. She has been there to teach me how to search and network in an intelligent and subtle way. Above all, she has taught me to be fair and honest with myself about what I want and not to give up on my idea of excellence. That reassured me enormously. I realized that it was possible—that I could continue to believe in what I want to accomplish. Cap Career helped me develop my tools and plan of action.
I am now a few weeks away from the end of my school year, a few weeks away from being able to enter the job market during a health crisis. Once again, I'm not alone. Ms. Govart is always there to motivate me, take stock, and help me consider my plans in the best possible way. I need someone who believes as strongly, and sometimes even stronger, in me than I do in times of doubt."
 
 Her journey
Following postsecondary preparatory classes in economics, Alicia joined EM Strasbourg's Programme Grande Ecole on impulse in 2016. "During my interview, the interviewers were really interested in my personality. I was asked to talk about my values, my passions, and my family. That touched me."
After her second year of the PGE, she completed a professional gap year to discover two fields that interest her: the pharmaceutical industry and aeronautics. She worked at Eli Lilly and then Safran. "These experiences have allowed me to gain the maturity necessary to be a manager. I loved discovering environments outside the business school."
Passionate about the MENA region, Alicia has chosen to spend the last year of her master's degree in Lebanon, where she is specializing in air and maritime logistics in a geopolitical context of oil shortages and revolution. For the student, this experience "remains one of the most emotionally rich years" of her life.
As for the rest of her career, she does not want to "get stuck in a routine." "I like a competitive environment. I'm not afraid to evolve in a masculine or technical environment. I really like the maritime and aviation industries." Considering her professional, extracurricular (Europe Etudes, BDS), and personal background, Alicia feels ready to take on responsibilities. At EM Strasbourg, we wish her nothing but success.