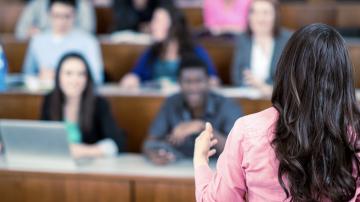 Like every year, the HuManiS research unit (UR7308) organized Les Doctoriales. This year's event was a landmark one, with 18 doctoral students and faculty from Kemmy Business School (Ireland) and Bucharest University of Economic Studies (Romania) in attendance.
In total, there were 22 presentations in English and four seminars spread over three days, with very rich and constructive feedback for the PhD students.
The internationalization of research remains one of the fundamental pillars of HuManiS's strategy. It consists not only in publishing in international journals but also in developing true strategic international partnerships that promote the exchange of ideas, research work, and even individuals between institutions, with the support of the School's Internationalization Office. The goal is to foster true scientific cooperation over time, which includes the development of doctoral co-supervision or even joint supervision.
Such exchanges also allow doctoral students to meet each other in a more informal and stimulating setting in order to make progress on their PhD work.
Sébastien Point, Director of HuManiS Research Center, would like to thank once again all those who participated in this event and looks forward to seeing them at the next edition in 2023.
We have also gathered testimonials from participating university representatives:
"Sincere thanks for welcoming us to EM Strasbourg and leading such a professional and stimulating International PhD Workshop. We as faculty along with our PhD students derived deep value and insights from the workshop and real benefits from the visit overall. We really enjoyed meeting and engaging with members of the HuManiS faculty team and look forward to deepening research collaboration with EM Strasbourg. There is a very positive connection already formed which we hope to build upon."
Pr. Deirdre O'Loughlin, Kemmy Business School (University of Limerick)
"The Doctoral Workshop was really exciting, intensive in terms of activities and rich when it comes to research ideas and methods. The professors had a chance to get acquainted with the work of the PhD students, while the students had the opportunity to learn from the presentations provided by some selected professors. The atmosphere was very open, warm and friendly: everybody was willing to contribute, both professors and students were available to give advice and make suggestions. It was so refreshing to see intelligent, open minded and kind people around! I would like to thank our colleagues from EM Strasbourg for all the effort made for making this workshop a success, which I hope will continue in the coming years. I think this is a type of event that should be replicated in all Doctoral Schools, keeping in mind the flavour of local cultures. Thank you for the opportunity to join such a great event!"
Pr. Carmen Păunescu, Bucharest University of Economic Studies