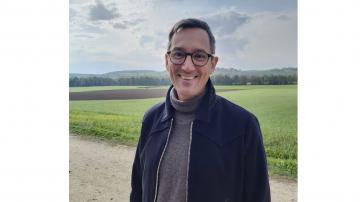 Emmanuel French graduated from Programme Grande Ecole at EM Strasbourg Business School (EMSBS, formerly IECS). After a career in international trade, he decided to become a chaplain in the Catholic Church in the canton of Vaud, Switzerland. Discover his #bedistinctive career path and orientation—between professional aspirations and social involvement.
An international career focused on collaborative/participatory management
Emmanuel French decided at a very young age, around 14, that he wanted to go to a business school with an international focus. It was during his years of postsecondary preparatory classes that he discovered EMSBS. His goal at that time was to work internationally in the field of entrepreneurship.
After gaining some professional experience through the French International Internship Program (VIE, formerly CSNE), Emmanuel was hired by the Alsatian company Steelcase (-Strafor). "They sent me to several countries including Switzerland. I learned a great deal from this experience in sales. I worked my way up as a sales manager."
Emmanuel developed a strategy to get good results. "I spontaneously adopted a coaching attitude. The idea was to support the sales people—to develop their potential, their success. It was very beneficial for the company as well."
Later, Emmanuel became head of strategy for the Middle East, Europe, and Africa. He traveled every week. "I had a fairly linear career path, with more and more responsibility. In all situations and with all the people I dealt with, I championed support and harmony around objectives."
After 13 years with this international company, he decided to take a professional turn and become an independent consultant and coach. "It was a great experience—I always had work. This new career was extremely satisfying. I really felt that I was more and more myself at work. Being at the service of both individuals and organizations and always being in contact with people remain the most rewarding aspects for me."
Linking your faith and your career
After 10 years working as a consultant and coach, Emmanuel wanted to combine his work with his Catholic faith. "Through my work as a coach and consultant, I realized that I also wanted to support people dealing with social problems. My former colleagues and friends must have been surprised, but for me, it was a natural and rather slow progression. It became more and more logical."
Emmanuel was employed by the Catholic Church until July 1, 2021. "What matters is that I helped people. I didn't have any predefined external pressure. I was just there to help people going through a complicated or painful period in life." Emmanuel's activities were quite varied at the time: "I had to welcome people in precarious situations. I was on the lookout, like when you have to gather commercial intelligence; I had to understand needs. Where social services couldn't help, we were there. In this position, there was a pure management aspect because I had to encourage people to volunteer and I had to work with social workers, health organizations, multidisciplinary teams, etc."
His work also varied a lot on account of the pandemic: opening shelters, providing food, being present in certain places (emergency shelters, hospitals, etc.). "There was a real need to manage priorities and stress. I made use of everything I learned in business school on a daily basis—you had to constantly innovate, set new projects in motion, and invent solutions. Having ideas was not enough; you had to make them reality."
After more than three years working for the Catholic Church, Emmanuel decided to make a U-turn: "I've been back working as a consultant and coach since July 1, 2021."
EMSBS: a formidable springboard
Emmanuel French looks back on his studies at EMSBS, describing his time at the School as a "magnificent springboard for both my professional and personal life in their entirety."
"At EM Strasbourg Business School, I was given the right tools to be a good manager. It's a school where I didn't feel forced to be someone I wasn't. For me, joining the School was a great opportunity: for the quality of teaching, the human size of the School, and the contacts with partner universities. Moreover, Alsace is a region that I like very much. I am a great promoter of the School. I believe in uniqueness, the #bedistinctive that didn't go unnoticed for me."