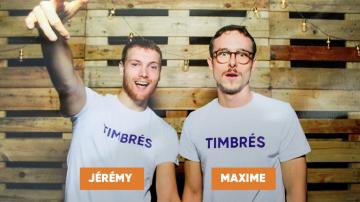 Jérémy and Maxime are two graduates of the Master of Entrepreneurship degree at EM Strasbourg, but they are also the creators of a brand of muesli that is just as daring as its creators: "Timbrés", which translates as "Crazy" in English. Their recipe? To offer finer and more refined flavours than those found elsewhere, to take their customers' taste buds on a journey, and to anchor local partnerships.
EM Strasbourg's Master of Entrepreneurship: A Solid Foundation
Maxime and Jérémy chose EM Strasbourg for similar reasons: the desire to use their knowledge in a project that suits them to a tee. At EM Strasbourg, they discovered a solid theoretical basis for setting up a business project: "The master's courses are designed to give us the essentials in accounting, marketing, and communication," explains Maxime.
EM Strasbourg's Master of Entrepreneurship program requires you to have a personal project to develop. Jérémy explains: "We are deliberately left two days a week to develop our projects. By working on a concrete idea, the courses take on their full meaning." Jérémy wanted to launch a muesli bar, and Maxime wanted to market a Latvian-inspired porridge recipe.  "We realised that we could move forward together: we shared a slightly unusual passion for breakfast."
 
"The master's courses are designed to give us the essentials in accounting, marketing, and communication" 

Maxime
Crowdfunding: A Boost for This Young Brand
Successfully carrying out a crowdfunding campaign also means fine-tuning the brand's commercial strategy. Their concept, according to Maxime? "Some people go on holiday to discover new dishes. Conversely, we allow them to travel from the comfort of our own home with our recipes. Our current destinations have included Vietnam, Canada, and our most recent recipe has been: With Love from the South of France, which contains figs, apricots and rosemary".
"Crowdfunding, as we now know, is not just a way of raising funds, it is an opportunity to gain renown. "

Jérémy

They want to raise €6,000 to finance the materials they need for their project. To do this, Jérémy and Maxime are opting for a solid communication both online and offline. It is an opportunity to develop new collaborations during this period of intensified communication: with the Sofitel hotel in Strasbourg or the department store Galeries Lafayette, for example.
With a presence on Twitter, Facebook, and Instagram,"Les Timbrés" have also joined events from Strasbourg, such as a breakfast between twitter users (#Twidej_SXB). They have also organized tastings, particularly with their local partners "Beevrac" and "Le Bocal" to convince the audience, teaspoon in hand.
EM Strasbourg in Partnership with KissKissBankBank
Although their project took off after their time at EM Strasbourg, Maxime and Jérémy were enthusiastic to discover that their School had launched a partnership with KissKissBankBank. For Jérémy, "You already have to have a very clear concept to launch a crowdfunding campaign. But if this partnership gives students the momentum they need to embark on ambitious projects, I'd be delighted." Maxime, for his part, advocates lifelong learning:  "We shouldn't stop at classes: by starting a personal project we don't stop learning new things, it allows us to be always on the move and to remain curious!" 
A philosophy widely shared at EM Strasbourg, which wishes a resounding success for the crowdfunding campaign for Les Timbrés. Their campaign ends on November 15. What if you filled up your cereal bowl by allowing young entrepreneurs to start a promising business?
Les Timbrés has had an online shop since April 2019: https://www.timbres-muesli.fr/