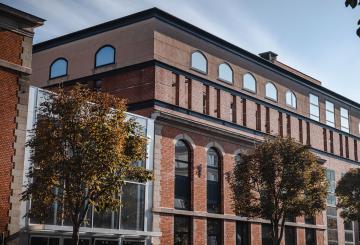 Mazars has announced the renewal of its support of EM Strasbourg with a new donation of €150,000 to be given over three years to the "Governance and Family Business Transfer" Chair at EM Strasbourg. This will be used to conduct research on practices in governance and family business transfer.
A ceremony attended by Philippe Castagnac, CEO of Mazars, Alain Beretz, President of the University of Strasbourg, Regis Bello, President of the Unistra Foundation, Jean-Louis Koessler, Managing Director of Mazars, Laurence Fournier, Valentin Wittmann, Mazars Partners, Isabelle Barth, Dean of EM Strasbourg and Patrice Charlier, Head of the "Governance and Family Business Transfer" Chair at EM Strasbourg, was organized at the Business School to announce the renewal of the agreement, on Wednesday May 4, 2016 at 8:30 a.m..
Creating a space for research, reflection, and meetings to promote the success of family business transfers. This is Mazars' aim, as the company has decided to renew its support for the "Governance and Family Business Transfer" Chair at EM Strasbourg. In 2012, the group specializing in auditing, consultancy, accounting, tax, and legal services chose to make a €150,000 donation over three years and to renew this same donation for three more years to EM Strasbourg through the Unistra Foundation.
The Budget Will Be Used to Finance:
a think tank on family governance which meets quarterly, bringing together family managers of SMEs and middle-market companies in the Grand Est region of France
the launch a training course and a professional certificate issued by EM Strasbourg entitled "Young Family Business Transferees" in partnership with Mazars-Marcan and CIC Est, with the support of the FBN (Family Business Network): this training will take place over 5 days, with one day per month from September 2016 to February 2017.
the publication, with the Mazars Group, of a book entitled "Financing and family business transfers: is an IPO a good solution? " in May 2016
a post-doctoral internship for Jonathan Bauwerearts from October to December 2016 (a PhD student who has already completed a doctoral internship with the chair in the 2nd half of 2014 and defended his dissertation on 4 May 2015)
the development of counselling activities to resolves family conflicts, family transfers, drafting of a family charter, etc.
papers at symposia and publications in magazines, newspapers, etc..
regular round tables and conferences on topics related to business transfers
The "Governance and Family Business Transfer" Chair thus receives major support, increasing the support from partners already involved: Alsapan, CIC-Est (Private Bank), Daniel Stoffel, FM Logistic, Lesage Industrie Béton, Octogone, Royer Voyages, SALM, Solinest, Soprema, Team Attitude, Zind-Humbrecht.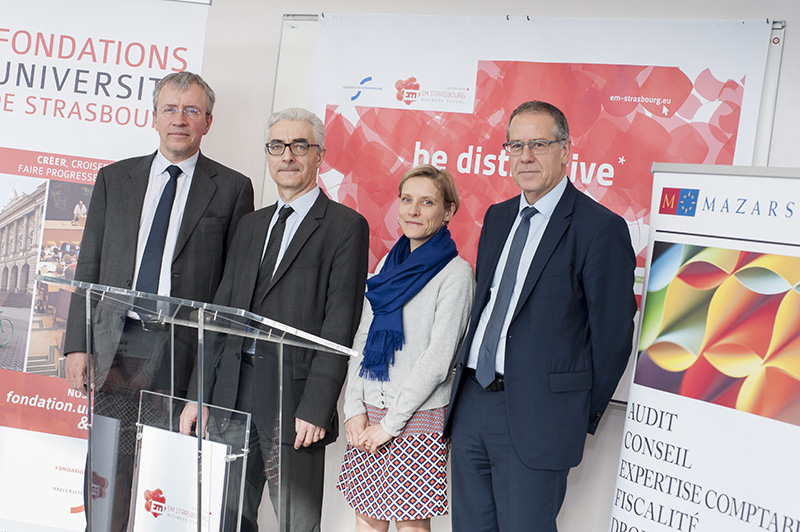 The research team is composed of:
Director: Patrice Charlier, Associate Professor, EM Strasbourg, Large Research Center
Odile Paulus, Associate Professor, EM Strasbourg, Large Research Center
Enrico Prinz, Associate Professor, EM Strasbourg, Large Research Center
Renaud Defiebre, Associate Professor, Haute-Alsace Univeristy
Jonathan Bauweraerts, Research Lecturer, University of Mons