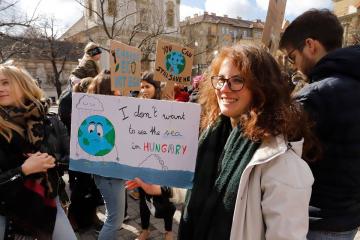 Mélanie is a PGE student at EM Strasbourg, but she is also passionate about the climate issues of our time. When looking for a host university for a full year abroad, her interest in environmental NGOs was at the heart of her selection criteria.
Choosing Courses Abroad
When Mélanie chose her Erasmus exchange, she carefully studied the programs of the University she was considering. She dreamt of working in an NGO, and heard about the Hungarian government's tougher stance towards NGOs. This sparked her interest and she chose Corvinus University of Budapest, with the firm intention of participating in all the politics courses open to her. "I have had access to courses in development policy, humanitarian project management, and information capitalization strategy. Some options have led to separate degrees, which add more variety to my CV. " Once she'd arrived, she realized thatCorvinus University offers a course based on a simulation of COP25. Just over twenty universities around the world are taking part in this simulation, which takes place at the end of the semester after extensive preparation work. "The teacher gave us tools to build scenarios, and represent different countries or organizations at the simulated convention. We learned how to negotiate in the context of a climate agreement. I had never learned so much on a subject in so little time."
 
Six months to Find Your Place
Before starting at EM Strasbourg, Mélanie was rather reluctant to spend a year abroad: "If I had been given the choice, I would have preferred to leave for six months, and not leave my life in Strasbourg for so long. But I have no regrets: it took me a full semester to understand everything that this year abroad could bring me. It was during the second semester that I attended this course on COP25, and it was also there that I saw my association commitments bear fruit".
Indeed, Mélanie did not just stick to the theoretical side. In Budapest, she was involved with associations and was one of the founding members of the local branch of Extinction Rebellion. As part of this commitment, and thanks to the courses she benefited from at the University, local companies reached out to Mélanie in order to work with her. "At the moment there aren't many active environmental associations in Budapest," explains Mélanie, "and my background made me well suited to this kind of task. I would never have imagined this, but I spoke, in English to professionals, to explain the challenges of global warming and the levers of action available to them." 
 
Professionalizing Experiences
This year abroad has allowed Mélanie to expand her network, but also to identify opportunities in the field. "A lot of environmental issues still need to be developed in Budapest. Such as promoting cycling more. There is a lot of work ahead too, about the use of plastics. " Today, the student is looking for an organization to spend her professional gap year at. There is no lack of possibilities in Budapest, but Mélanie's gaze is turned to the rest of the world: "I would like to discover a new country next year... Nevertheless, I have kept contacts in Hungary. Doors are open to me within associations and NGOs, which makes it easier for me to access their counterparts in other countries."