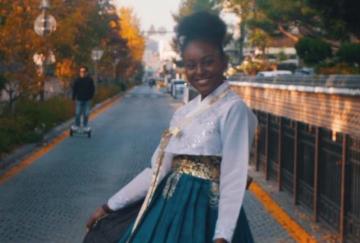 Koudjiratou Salao is a student at EM Strasbourg Business School, and has just returned from a full year at Sogang University in Seoul, South Korea. Twelve months of immersion in this hyperactive Asian capital, whose culture is inspired by both Japan and the West.

A Highly Developed Culture of Appearance
The city of Seoul is one of the jewels of fashion and cosmetics in Asia and the world. Koudjiratou dreams of a future job in this sector. It is for this reason that she chose South Korea as part of her year abroad. "Seoulites", she explains, "take care of their outfits down to the last detail. For example, their daily skincare routine includes seven different products to be applied to the face, morning and evening. That intrigued me a lot. "
The student also discovered the capital's fashion festivals. "In particular, I was able to attend Seoul Fashion Week and the Seoul Fashion Festival. I attended fashion shows and discovered small Korean designers. Many locals are reluctant to speak English, and this forced me to find other ways of communicating, sometimes only by gestures. " Moreover, Koudjiratou is originally from Africa, and his skin colour stands out in South Korea.  "At the university," she says, "there were students of all backgrounds, but in the city much less. I was often noticed. Rather than being embarrassed by it, I learned to reach out to people more easily. "
 
The University of Seoul: A Multi-Cultural Place
Sogang University offers a specific course for expatriate students, with courses taught in English. Koudjiratou met people of all nationalities, including French, but also Korean students. "In the faculty, all Koreans speak English. We had the opportunity to work together on some projects, during a communication and marketing competition in particular. The local students helped my group to understand the expectations of the panel and to better understand their evaluation criteria. The teachers were also very available and always ready to answer our questions. I have made enormous progress in English thanks to them. "
The young expatriate participated in international business, accounting, and marketing courses. But she also decided to take a closer interest in her host country, in particular by taking a course on Korean culture and religion.
 
A Permanent Abundance
Among the striking discoveries of this year abroad was the Seoulites' general state of mind, as they go between stress and relaxation. "I was apprehensive about their relationship to work, because I knew that there are big problems with depression in the workplace. It turns out that life in Seoul is just as intense in terms of leisure. Karaoke, for example, is very popular. There are karaoke bars almost everywhere and people go there every day when they get off work." Koudjiratou describes a sleepless city. 
Restaurants, karaoke, and other entertainment rooms are open 24 hours a day, all in a very respectful atmosphere. "Sometimes I left a bag in a shop and found it two hours later in exactly the same place. I also got into the habit of greeting my elders with a small nod of the head in the street. Now that I'm back in Paris, this sign of respect seems a bit out of place, I'll have to readjust!"