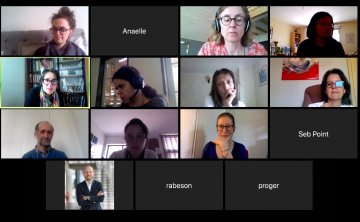 'Publicoaching' workshops are regularly organized to exchange good practice concerning academic publication, where research lecturers and PhD students from the HuManiS and LaRGE research lecturers are invited.
Despite the current exceptional circumstances, the last 'publicoaching' workshop was held by videoconference and took place as planned on Tuesday, April 7.
Hosted by Amélie Boutinot, the workshop enabled some fifteen research lecturers to discuss and provide constructive comments on the two projects that were presented.
The topics presented were the following:
Odile Paulus presented her project "Les chemins entrepreneuriaux suivis par les artistes" [Entrepreneurial paths followed by artists], in "slightly athletic" R&R for the International Journal of Arts Management.
Jocelyne Yalenios then presented her project "Identifying blue-collar talent: the role of HR in line-management involvement" for the journal Human Resource Management.
At the end of the presentations, a short discussion was held on the theme "How to write an abstract".
Many thanks to the participants for their adaptability and very positive feedback!