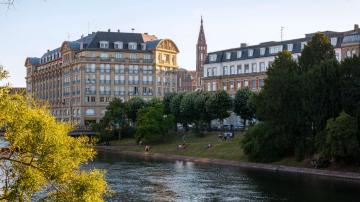 With its historic buildings and half-timbered houses, Strasbourg is a city full of color with strong ties to its heritage. Thanks to its many shopkeepers and passionate inhabitants, it has nothing to hide when compared to the most dynamic capital cities. On the contrary, far beyond its magnificent cathedral, the city is overflowing with original activities and places worth discovering. That is why the Strassbuch is offering you a selection of seven hidden gems to see a side of Strasbourg you never knew.
1. Colors, Contemporary Urban Art Festival, Studio 116
In 2018, the idea of creating a festival showcasing street art emerged and quickly became a reality in Strasbourg. Polymorphous and set to take place in unusual places, one of the first editions was held at the Graffalgar Hotel before moving to Studio 116 from September 4 to 27, 2020. Many French, local, and international artists have accepted this invitation to highlight the possibilities of street art—an art that requires just as much work and technique as time and imagination.
You can discover, for free, the works of Gorgone (Reunion Island), Malakei (Copenhagen), Vidam (Berlin), Jaek El Diablo (Strasbourg), Kean (Mulhouse), Taroe (Biarritz), etc. As the guide introduces you to all these imposing and transformed walls, you will be surprised by the explosions of color, shapes, movements, perspectives, and styles—all specific to each artist. Street art will become a complete, dynamic, and mesmerizing art form right before your eyes.
2. The speakeasy at Aedaen Place
For the more adventurous, the speakeasy at Aedaen Place should arouse your curiosity. In the heart of Strasbourg, it is hidden in plain sight. In the main restaurant, you can enjoy a pizza and excellent beer with friends. However, if you're looking to discover the hidden gem, you will need to find the concealed entrance by yourself. Once the passage is revealed, you can venture into a secret bar decorated in intimate and luxurious fashion.
In this cozy yet elegant setting, you can order classic cocktails or let your bartender's creativity run free for a surprise. These excellent cocktails, served according to the rules of the art, are well worth their price.
3. Brunch at Tonton Gâteau
A few steps away from the Strasbourg Cathedral, a café run by a couple has been known to please more than one! It sells many cakes, along with delectable pies or pastries with a modern twist.
Having said that, the café Tonton Gâteau doesn't stop at a wide range of small pastries and cakes that everyone loves; open most of the day, you can also enjoy a hearty lunch. All the dishes are made with seasonal and quality products. In the café's Zen atmosphere, brunch is served every Saturday starting at 11 a.m.
In the summer or in good weather, you can even taste delicious teas and coffees accompanied by one—or two—macaroons on the outdoor terrace.
4. Historic Wine Cellar of Strasbourg Hospices
The Historic Wine Cellar of Strasbourg Hospices played a direct role in caring for the sick at the end of the 19th century. Wine was in fact still considered a medicine and distributed to all hospital patients. Abandoned several times, it was completely restored to working order as a cooperative in 1995 and since then has sold nearly 150,000 bottles of different vintages per year.
Having withstood many accidents and fires, the cellar is a treasure chest filled with many jewels. By far the most emblematic remains a wine from 1472, the oldest drinkable wine in the world. General Leclerc—the liberator of Strasbourg in 1944—is one of the few people to have had the privilege of celebrating his victory with a glass of this wine.
You won't be able to taste this centuries-old wine, but you will be able take a 30-minute guided tour of the cellar for three euros and taste wines during an open house. Discover the soul and magnificent traditions that the hospices in Strasbourg represent!
5. Moonshiners
For all adventurers, here is a spot that's worth a look! Perched above a well-known bar in Strasbourg, Moonshiners will take you back to the time of prohibition. When looking for the secret passage, be discreet. The cocktails served up there are so good they should be illegal. In the half-light of this bar, you can enjoy quality drinks, anchored in this warm and original setting.
The subdued atmosphere of this bar reveals the soul of the most courageous moonshiners and provides you with the perfect opportunity to enjoy a timeless moment with friends. To awaken the moonshiner in you, the Strassbuch is leaving you with nothing but the address.
6. Stimultania, Walk in the Picture
The most interesting place for artistic experimentation in Strasbourg is undoubtedly Stimultania. Set up in 2006, this cultural space of 200 m2 presents three to four exhibitions per year and hosts multiple concerts or events. Stimultania's premises—built in a former fire station—provide a large space to display exhibitions and showcase artwork. Moreover, its panel of artists is international—stretching from Peru to New Zealand and of course passing through Strasbourg.
From July 4 to November 1, you can discover the exhibition Walk in the Picture dedicated to André Kertész. As the photos are arranged at eye level, walking in the picture takes on its full meaning: by following the arrows, you cross the lens and enter the photographer's point of view. You plunge into the Paris of 1930 and experience original scenes that come back to life. Give it a try!
7. The Binchstub
If you venture into Strasbourg's district known as La Petite France with friends or family, don't hesitate to try the region's specialties. The best known is without doubt the Flammkuchen, otherwise known as Tarte flambée. In a slightly hidden street within the district, you can stumble on La Binchstub, a traditional restaurant with a cozy and warm atmosphere. Seated in this unique and rustic setting, you are sure to enjoy a traditional and unique gastronomic experience.
The tartes flambées are perfectly cooked and prepared with local products from the outskirts of the city (check out the website to discover the partner farms). They are made with a wide selection of toppings and their taste well outweighs their price. These dishes will surprise and satisfy anyone who is looking to taste the made-in-Alsace experience and the passion of Strasbourg's restaurant owners.
Far beyond the architectural beauty of Strasbourg, these seven hidden gems will give you an intense and vivid picture of the treasures within Argentoratum, better known today as Strasbourg. The Strassbuch team thanks you for your interest in this article, which they hope will guide you in your discovery of marvelous places hidden in the heart of the city.
Article written by Olivia Debisschop, editor in chief of Strassbuch