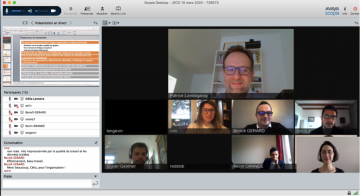 The SDFC [JECG in French] is being organized by Célia Lemaire in partnership with the AMCGAO [Association of Masters of Management Control and Organizational Audit], the AFC [Francophone Accounting Association], and the HuManiS Research Center, on the theme of "digitalization and financial control". It took place on Monday March 16, 2020 by videoconference.
Despite the current exceptional circumstances, the 12th Study Day in Financial Control took place online. Authors were able to present their papers, benefit from the feedback of other colleagues, whether or not they had written anything, and from corporate financial controllers, who joined the conference to provide constructive comments.
Find out more details about the morning's proceedings on the JECG website.
In order to continue the discussions, and to complete this morning online with a friendly evening event on the subject of 'digitization and financial control', we are planning a round table discussion which will take place as soon as the context allows.