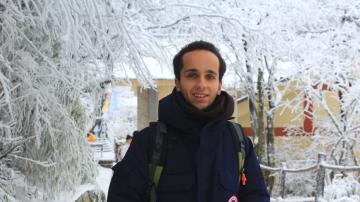 Samy Rochdi is a third-year student in the PGE at EM Strasbourg, specializing in International & European Business. Samy has a disability. Read the profile of a student with a positive frame of mind and an extraordinary willpower.
Joining a School in Line with Its Values
At the age of 6, Samy suffered a stroke (cerebrovascular accident) which left him hemiplegic, meaning the whole left side of his body is paralyzed. For the young man, there is no question of playing the victim. "For me it's not a handicap, it's a distinctive feature," he says. "I have learned to live with it and to develop the skills to adapt. " A fan of sport, skiing, and diving, thanks to his strong willpower, he manages to lead a normal life like all young people of his age.  The same thing happened in terms of his studies, with his economic and social sciences baccalaureate in his pocket, he decided to enroll in an ECE preparatory class at the Lycée Aliénor d'Aquitaine.
At the end of these two years of preparation, Samy wanted to come to a business school that shared his values. "When I went to the admission interview at EM Strasbourg, I fully saw myself in its 3 values (ethics, diversity, and sustainable development). I was able to talk with students from the school and these discussions confirmed my decision to join the school. "
Samy decided to go study on the other side of the world: to China to continue his last year of the PGE. "I opted for the double degree course with SWUFE (Southwestern University of Finance and Economics) in Chengdu to discover a new culture. This was a new challenge for me. " The bet paid off as the young man says he has developed a taste for international life, to such an extent that he now has only one desire: to leave again.
A Strong Commitment to the Associations
Samy defends values that are dear to him, both in his professional and personal life. EM Strasbourg's association activities allowed him to blossom, he joins the Jobs Service as a sales manager in April 2017. The aim of this association is to find one-off jobs of an educational nature for the School's students. Sami is also a member of the board of the FEDEEH (French Student Federation a Study and Work Dynamic with a Handicap). "In the context of the FEDEEH, I participate in charity running races for disabled people". In addition to his commitment to FEDEEH, he is also an active member of the "AVC tous concernés" [Strokes Affect Us All] association, which works to prevent strokes through regional and national prevention actions.
"Believe in Your Chances and Make Them Happen."
After various internships in sales and marketing functions, Samy is always ready to take up new challenges. In the future, he would above all like to work for companies that defend his values and are attentive to the theme of disability. For Samy, it is important to "believe in your chances and make them happen. " His optimism, his joie de vivre and his willingness to go the extra mile will appeal to anyone.