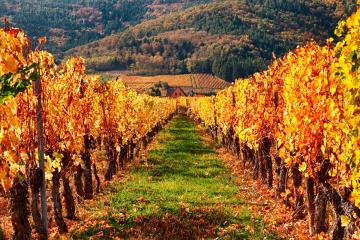 The Corporate Chair "Wine and Tourism", EM Strasbourg Business School, and the University of South Australia Business School co-organise the 2nd International Research Workshop on Wine Tourism "Wine Tourism: Challenges, Innovation and Futures" with the support of the French Association of Tourism Management (AFMAT2) affiliated to the French Foundation of Management Education (FNEGE3).
The International Research Workshop takes place on the worldwide known island of Santorini, Greece, 17 – 18 September 2020. The venue of the workshop is Santo Wines, a magnificent winery located on the picturesque cliffs of caldera. The International Research Workshop is designed to gather both wine and tourism researchers and professionals in order to discuss the current challenges for the international wine tourism industry and delineate its future directions.
The programme features a full research day with keynote speakers and research paper presentations on the 17th September 2020 followed by an immersive field trip visiting the Santorini vineyard on the 18th September 2020. During the field trip, participants will have the opportunity to visit famous wineries in Santorini, talk and learn from their wine makers and cellar door managers as well as experience some of the best Santorinian wines and food.