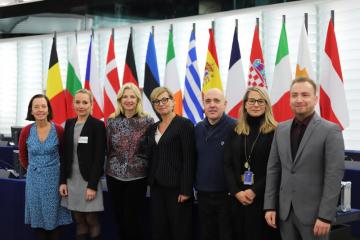 For the second consecutive year, the hemicycle of the European Parliament in Strasbourg welcomed more than 400 students from the University Master's program to a conference-debate on the theme of CSR, which is at the heart of many debates within the European Union. Under the aegis of Herbert Castéran and Marie-Hélène Broihanne, respectively Dean and Director of the University Masters and Executive Education Programs at EM Strasbourg, and with Enrico Prinz, the School's Director of Internationalization, as moderator, the conference was intended to be a forum for fruitful exchanges.
 
CSR and Global Warming
After a welcome address by Luis Martínez-Guillén, Head of the Liaison Office at the European Parliament, and a reminder of the fundamentals of how the European Union operates by Sophie Le Rue, Administrator of the European Parliament, Marie-Hélène Broihanne recalled the definition of CSR, which is "the way in which companies integrate societal, environmental, and ethical concerns by including stakeholders". This issue extends to all spheres of activity and, at a time when global warming is a central concern, the question for companies is no longer IF they must make a societal and environmental commitment, but HOW they must do so.
A point of view strongly shared by Pia Imbs, Head of the CSR Chair and Advisor on Sustainable Development at EM Strasbourg, who noted that companies' social and environmental responsibility cannot be disconnected from climate issues. To illustrate her point, she cited the American economist Jeremy Rifkin and his "Green New Deal", a work that proposes an "economic plan to save life on Earth". In this approach, Pia Imbs recalled that social challenges and the fight against poverty cannot be forgotten. The question today is how to implement a genuine ecological transition, translated into "green growth", by rethinking the entire production process.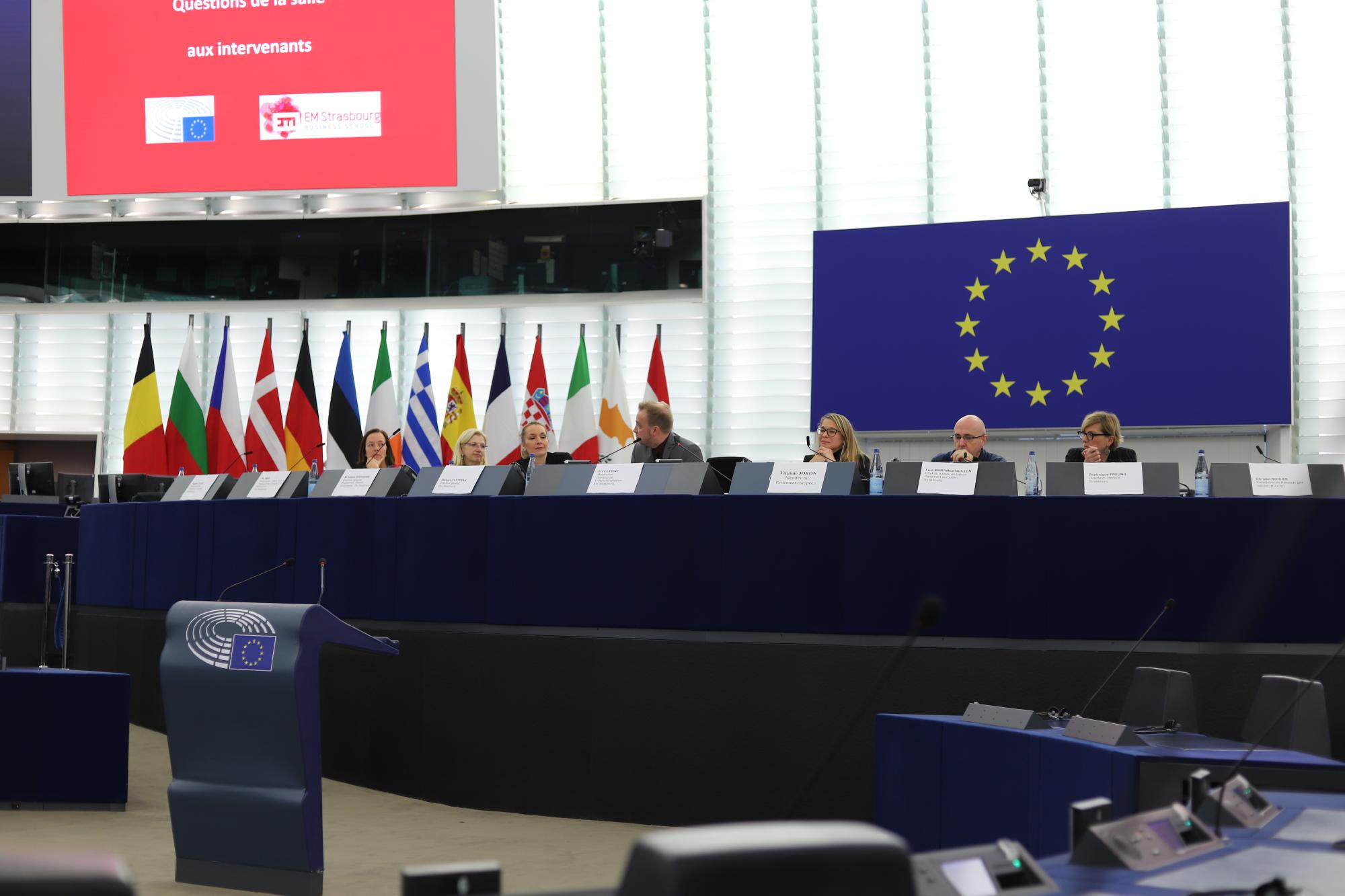 What Role Do Companies and Institutions Have?
While companies must be fully involved in this process, Dita Charanzova, Vice-President of the European Parliament, explained the extent to which institutions are also affected, and presents some of the initiatives taken by the Parliament. Anne Sander, Quaestor at the European Parliament, confirmed the institutions' stance, stating that corporate social responsibility must be encouraged by public authorities and the European Parliament. Through its various bodies, the EU is putting in place a number of measures to provide strong incentives for companies around the world to adopt more environmentally friendly behavior.
Christel Kohler, President of the Natural Gas Network at R-GDS, explained her company's new orientations in terms of green gas production. An energy performance that demonstrates GDS's desire to structure its CSR approach. To achieve this, the Strasbourg-based company has set itself 4 objectives out of the 17 recommended by the UN: producing clean energy at an affordable cost, promoting carbon-free mobility, supporting local associations working in the field, and reducing the carbon footprint of its activities. What is GDS' objective? Moving from the current 20% biogas production to 100% green production by 2030.
Then came the turn of Virginie Joron, member of the "Identity and Democracy" group in the European Parliament, to talk about the measures taken by the European institutions, but also about the possible ways of making companies evolve in their strategy, in order to keep companies afloat while making them more aware of the CSR approach.
Civic Engagement
Anne Sander stressed that "the climate emergency requires the joint efforts of private and public stakeholders", but also that everyone has a role to play in this global approach. This position was fully shared by Dominique Freund, director of Emmaus Strasbourg, evoking the philosophy of the association, which has been aiming to implement sustainable development by fighting poverty and squalor for more than 70 years. Everything in Emmaus' own operations is designed to minimize its carbon footprint as much as possible, in order to "change its behavior and its relationship with others, its consumption patterns, and also with itself, all of which is realistic and benevolent". Dominique Freund also recalled the individual responsibility in this approach, because everyone, at their own level and with their own means, can act to participate in this "alternative and solidarity-based economic chain", starting by using the greatest of our democratic powers: the vote!
Corporate Social Responsibility (CSR) - What Are the Challenges for Europe?
Published on November 28, 2019, Updated on November 28, 2019
 
After three votes on environmental and CSR issues at the European level, Enrico Prinz, in his summary, stressed the urgency of the situation and reminded everyone of their role, as a consumer or simple citizen. He deplored the immobility that sometimes occurs when it comes to concrete decisions and real commitments, whereas "on paper, everyone is committed and motivated". With spirit, dynamism, and strength of conviction, he invited everyone to take action!