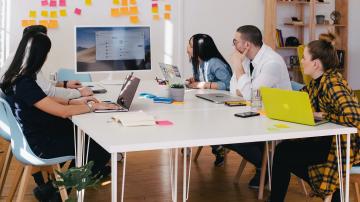 What better way to hone professional skills than to carry out a project that responds to a real business issue? To obtain their PGE master's degree, EM Strasbourg students must complete a case study in groups. The study analyzes and responds to a business issue related to the major or specialization chosen by the students, who must also conduct a literature review related to the issue studied.
What is

the case study?
Students must complete the case study on-site at EM Strasbourg in second or third year of the PGE master's program. To do this, students must first identify a problem, its relevance, and its context (a specific company or a fictitious company, depending on the major/specialization), and then apply a methodological approach. Each step is linked to different methods (market research, competitive analysis, product analysis, or financial and stock market analysis, etc.) and skills, which leads students to grow independently through research and reflection.
Work is carried out in groups of three or four students from the same major/specialization over the course of almost an entire school year, which allows students to learn to work collaboratively over a long period of time and build on group projects like Entomovoria and Prospect'Act carried out in the first year of the program.
A project adapted to

PGE majors and specializations
The case study is aligned with students' major or specialization. For example, in the Entrepreneurship & Strategy major, they reflect on creating a company or project and make a business plan for it. Students in the Finance & Accounting major conduct an in-depth financial analysis of a company. The projects therefore allow everyone to gain relevant professional skills in the field that interests them most—the possibilities are endless.
Moreover, all students carry out an academic literature review on a subject related to their project. They produce a report that gathers and analyzes academic and scientific articles in order to take stock of a business issue. The number of academic articles needed to write the literature review is determined by the case study director. By identifying what is known or not known about the concepts being studied and writing a report in accordance with academic standards, this literature review completes the project.
A guided

project
The student groups are supervised by a case study director who can help them develop their skills, particularly through feedback. Case study work is largely self-directed, but students must communicate regularly with the case study director so that he or she can provide guidance and monitor the progress and quality of the work.
The case study is submitted at the end of the academic year and an oral defense is held. The case study may also be the subject of questions during the end-of-study Grand Oral, which is also required to obtain the diploma.