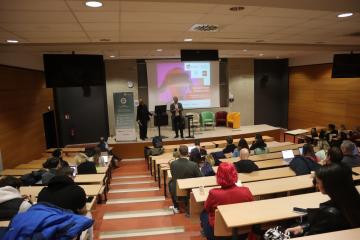 The annual Customer Experience Chair Workshop took place on April 6 at EMSBS and was attended by sixty or so participants: research lecturers, professionals, partners of the Chair, and EMSBS students.
Focusing on the theme "journey into Web3: reinventing experience," this morning session provided an opportunity to decode the Web3 ecosystem: metaverses, blockchains, cryptocurrencies, and NFTs thanks to the fascinating contributions of Kay Meseberg, Head of Mission Innovation at Arte, Bilal El Alamy, CEO of PyratzLabs and CTO of Dogamî, and James Mourey, Professor of Marketing at DePaul University in Chicago.
Chair partners Laura Messinger for Schmidt Group, Julien Maillard for Hager Group, and Alexandre Begard for Crédit Mutuel Alliance Fédérale discussed the use of Web3 in their respective industries during the roundtable discussion moderated by Professor Claire Roederer, Head of the Chair.
Find the day's complete program with the list of speakers as well as the titles of their presentations here.
The workshop is part of the AFM Customer Experience Thematic Interest Group program. This group is associated with the Customer Experience Chair, and its objective is to unite researchers working on experience in different institutions.