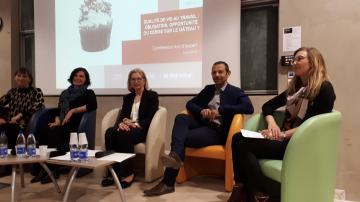 Behind words are deeds. Human resources specialists, an employment attorney, and a representative from SEW Usocome spoke at a conference on Quality of Working Life (QWL) at EM Strasbourg Business School about the benefits that companies can gain from a fulfilling environment for their employees. An exercise that requires an in-depth look at the organization of work and management, well beyond the "foosball table, basket of fruit" clichés that are sometimes conveyed by the world of startups. Well-being, creativity, and productivity are then the reward shared between the company and the employees.
Do you think of it as QWL or OS? Quality of working life or occupational stress? Although these two concepts do not convey the same image, they nevertheless underlie the same challenge for companies and employees: finding the right recipe to make work fulfilling for everyone. QWL is undoubtedly more positive than OS. Without necessarily going as far as the notion of "happiness at work", the idea is therefore that everyone can find pleasure in their job and meaning in what they do for the company. In the end, improving the quality of working life reduces occupational stress. But not just that: "The link with a company's economic performance is obvious," says Pia Imbs, Rsearch Supervisor and Senior Lecturer, Head of the Master of Human Resources and the CSR Chair at EM Strasbourg Business School, "as such the Quality of life at work must be strategic".
 
Involving Managers
An issue well understood by SEW Usocome. The company based in Haguenau has been aware of the importance of Quality of Working Life since 1989 with its Perfambiance® project. "Our ambition is to find the right balance between performance and atmosphere in the workplace," says Laurent Schneider, coordinator of this project. This is a challenge that the company and its managers take up on a daily basis: by reducing the number of hierarchical levels to facilitate dialogue, by asking managers to be present in the field, or by involving employees, each at their own level, in the reflection on processes aimed at improving their working conditions and, as a result, the company's performance. Behind it, "these ideas need to be well considered and studied to maintain involvement. We also need performance indicators that are accessible and transparent," adds Laurent Schneider.
Other initiatives accompany this in-depth work, such as informal Afterwork events, organized several times a year, in which employees are invited to participate, right up to top management. "The actions to be implemented are not necessarily costly for the company", says Isabelle Hornecker, founder of the specialist firm Ethica HR, "but it is essential that management be involved in the project". Indeed, managers are an essential pillar of the quality of working life. More broadly speaking, "a managerial culture based on the exchange of good practice, benevolence, or exemplary behavior is one of the fields of action for improving the quality of working life", explains Tania Bergmann, consultant and partner at Ethica HR.
 
QWL: Part of A Company's Strategy
Although there is no universal recipe for quality of working life, Tania Bergmann would like to point out that it is not only the responsibility of the company itself, but also that of each and every one of its employees: "We are responsible for ourselves as much as for others and it is also up to each person to find their own balance". Nevertheless, the QWL approach must become part of a company's strategy, supported by management and measured by steering tools. "By choosing priority areas, we can achieve quick results that should be recognized and celebrated" she concludes. The image of a company and its ability to attract and retain its employees are at stake.
In the field of occupational stress prevention, a company's legal responsibility can also be at stake. Several texts have followed one another (notably the ANI in 2013, the Rebsamen law in 2015) to provide a legal framework on the obligations of companies in terms of social dialogue on the themes of quality of working life and the prevention of occupational stress. But more than the texts, "the case law has shown itself to be ruthless on these issues with regard to companies, with the possibility of accumulated sanctions due according to the damage and if the company is shown to have harassed employees or been passive in situations", explains Marie Tognazzi, an employment attorney.
But even before the court case, the figures alone demonstrate the advantages of looking at the quality of working life: INSEE reveals that 68% of French people believe they have health problems, half of them for professional reasons. She also estimates the cost of the discontent in companies at €12,600 per year per person in France! A more positive view of the figures comes from SEW Usocome, which reports an employee absenteeism rate of less than 3% and also an average seniority of its employees of more than 16 years. This is no accident!